Cheesy parmesan and garlic pull-apart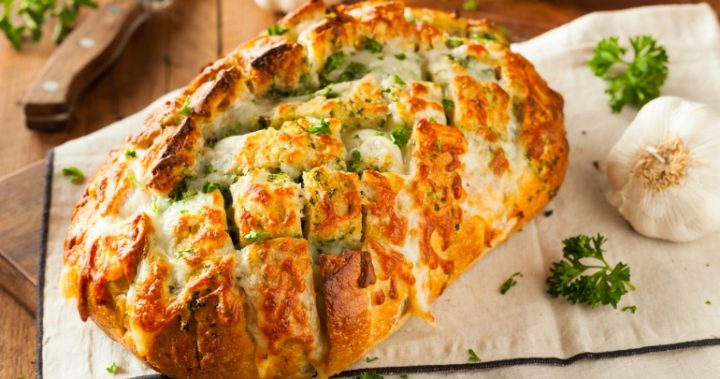 We're deep into Autumn now, which if nothing else is definitely soup and casserole weather. This cheesy parmesan and garlic pull-apart loaf is the perfect accompaniment to your favourite soups and stews, replacing boring old bread to dip and clean your bowl with. 
As a bonus, this tasty side dish is super simple to make, using just a fresh loaf of your favourite bread, and a few other ingredients.
The real effort is in not eating the whole lot at once!
Ingredients
1 small loaf sourdough (or your favourite) bread
3 tablespoons butter, room temperature
4 cloves garlic, crushed
1 tablespoon fresh parsley, chopped
Salt & pepper
1/2 cup grated parmesan cheese
1 cup grated mozzarella
Ad. Article continues below.
Method
1. Preheat over to 180C and line a tray with baking paper.
2. Slice the bread across one way, not all the way through in approx 3cm wide sections. Repeat the other way, so the bread ends up sliced in squares.
3. To make the garlic butter, mix butter, garlic, parsley, and salt and pepper (to taste) with a fork.
4. Coat the inside the bread slices with the garlic butter using a butter knife or pastry brush, then stuff with the parmesan and mozzarella.
Ad. Article continues below.
5. Cover the loaf with foil, and place it in the oven for 15 minutes. Remove the foil and bake for a further 15 minutes.
6. If desired, sprinkle with more parsley and serve hot from the oven.