Cheesy mushroom, bacon and vegetable pasta bake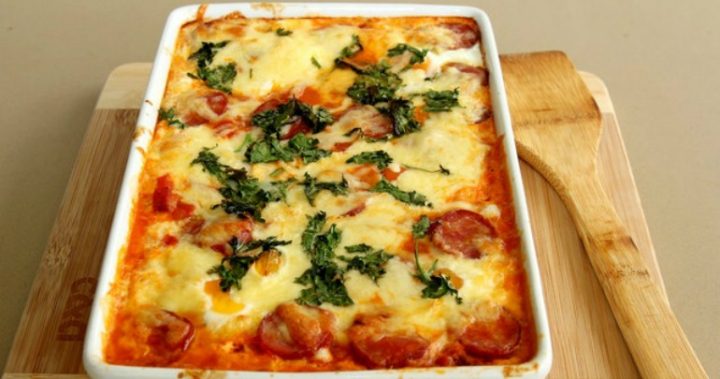 Full of flavour and easy to make, the family will love this pasta bake recipe.
It's a great dish to make at the beginning of the week as it keeps well and tastes just as good reheated in the oven or microwave a couple of days later.
This recipe also works a treat if you happen to be looking after grandkids with particularly fussy tastebuds. The delicious bacon and cheesy sauce masks the veggies while still providing them with a hearty and filling meal.
Make life easy by prepping the dish early and then just pop it into the oven 45 minutes before you're ready to eat.
Store leftovers in an airtight container in the fridge for up to four days.
For an extra health kick, serve with a side of fresh salad. Find a recipe here.
Ingredients
400g penne pasta
2 tsp olive oil
1 brown onion, finely diced
2 garlic gloves, crushed
125g shortcut bacon, trimmed, diced
1 medium zucchini, finely diced
1 carrot, finely diced
400g button mushrooms, halved
250g cherry tomatoes, halved
1 1/2 cup shredded cheese blend
Cheese sauce
80g butter, chopped
1/4 cup plain flour
4 cups milk
1 cup shredded cheese blend
Method
Preheat oven to 180˚C.
Cook pasta following packet directions. Drain and set aside.
Meanwhile, heat oil in large frying pan, over medium heat.
Add onion, garlic and bacon. Cook, stirring often, for 3-4 minutes until onions soften.
Add zucchini and carrot. Cook, stirring often, for 3 minutes until vegetables soften.
Stir in mushrooms and tomatoes. Cook, stirring often for 2 minutes.
Add mixture to pasta and set aside.
To make cheese sauce, melt butter in medium saucepan over medium heat.
Add flour, stir until bubbling.
Remove from heat and gradually whisk in milk.
Return to heat, bring to boil, stirring over medium heat until thick and smooth.
Reduce heat and stir in cheese until smooth.
Add half of cheese sauce to pasta mixture. Stir to combine.
Spoon mixture into greased baking dish.
Pour over remaining cheese sauce. Smooth top and evenly sprinkle with cheese blend.
Bake for 45 minutes or until golden and bubbly.
Feel free to garnish with parsley and enjoy!