Cheesy ham and egg morning muffins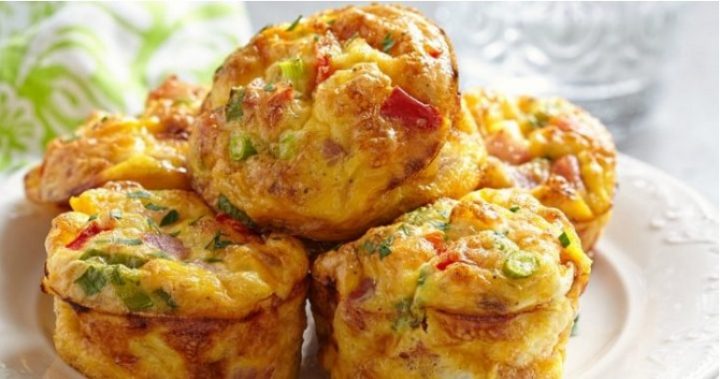 You know what they say… Breakfast is the most important meal of the day, but it can also get a little repetitive! Whip up these delicious muffins for something different and get a nice hit of protein at the same time. You can throw in any extra veges or herbs you have on-hand — try mushrooms, spring onion, parsley etc. They make a great snack to eat on the run as well, just wrap in cling wrap and tuck into your bag before you leave the house!
Ingredients
1 tablespoon olive oil
1/4 cup diced onion
1/4 cup diced capsicum
1 cup fresh spinach or 3 tablespoons frozen (thawed)
3/4 cup diced ham
4 large eggs
1/4 teaspoon salt
1/8 teaspoon ground black pepper
1/4 cup milk
1/4 cup grated cheddar
Method
1. Grease a 6 cup muffin pan. Set aside. Preheat oven to 180C. In a medium mixing bowl, whisk together eggs, salt, pepper, milk and cheese. Set aside.
Ad. Article continues below.
2. In a medium frying pan, heat up olive oil. Add onion and pepper and cook until soft. Add ham and cook until slightly browned. Add spinach and cook until wilted (if using frozen and thawed, cook until heated up).
3. Place 1 tablespoon of veggie mixture into each muffin cup. Pour 1/4 cup of milk mixture into each muffin cup, over the veggies. It should come up almost to the top. Bake the muffins for 15 to 17 minutes, or until the eggs are set. Cool in pan for 10 minutes. Serve or cool completely and store in fridge for up to 1 day.
—————————————————–
If you'd like to see more recipes from Starts at 60, click here. And if you have a recipe you'd like to share with the Starts at 60 community – we'd love to share it! Submit them to us by completing the form below.
Submit your article here