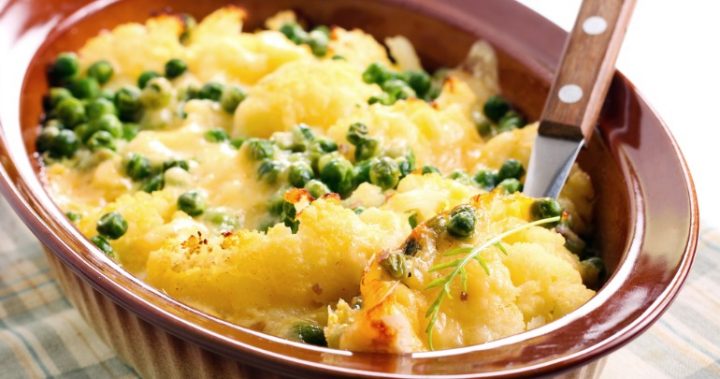 If you're looking for an easy dinner and a great way to use up your leftover veggies at the end of the week, this recipe is a winner. It's packed full of flavour with a delicious golden cheesy top that will fill your house with the best aromas! This version uses cauliflower, bacon and peas, but you can add in whatever veggies you like. Try broccoli, mushrooms or zucchini and serve up a big dollop per person. You can have it on it's own as a vegetarian meal or serve with a chicken or veal schnitzel for something a little more indulgent!
Ingredients
2 small heads cauliflower, cut into florets
2 tablespoons butter
3 cloves garlic, diced
3 tablespoons plain flour
2 cups milk
1 1/2 cups grated Cheddar
50g cream cheese, softened
Salt and freshly ground black pepper
6 slices bacon, cooked and crumbled
1/4 cup peas, frozen or thawed
Method
1. Preheat oven to 180C. In a large pot of boiling water blanch cauliflower for 2 minutes. Drain and squeeze water out of cauliflower (this will help keep it fluffy).
Ad. Article continues below.
2. Make cheese sauce: Melt butter in a large frying pan. Add garlic and cook until fragrant – about 1 minute. Add flour and stir for 2 minutes or until golden. Add milk and bring to a low simmer, then add cream cheese, whisking until combined. Stir in 1 cup cheddar until melted and season with salt and pepper.
3. Add drained cauliflower to a casserole dish, then pour over cheese sauce and stir until combined. Stir in all but 1 tablespoon each of cooked bacon and peas until combined, then top with remaining Cheddar, bacon, and peas. Bake for 30 minutes or until cauliflower is tender and cheese is bubbly and thickened. Let cool slightly, then serve.
—————————————————–
If you'd like to see more recipes from Starts at 60, click here. And if you have a recipe you'd like to share with the Starts at 60 community – we'd love to share it! Submit them to us by completing the form below.
Submit your article here