Cheese and spinach swirls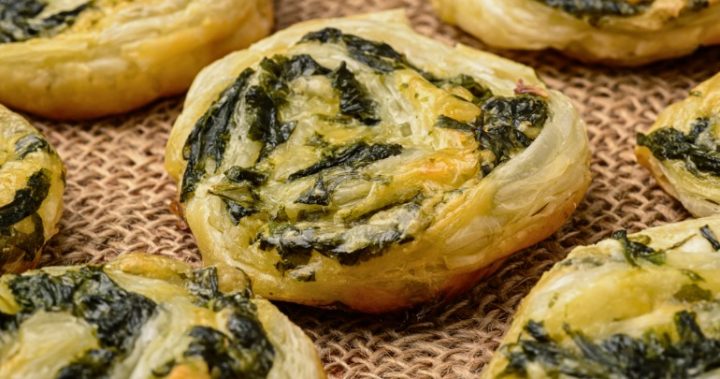 Snack time can be tricky, but it's hard to go wrong with these retro cheese and spinach swirls. Every layer is filled with the delicious cheese and spinach mix and it's all wrapped up in crispy puff pastry. They make a great savoury treat to go with your afternoon cuppa and are perfect for the grandkids, too. They've got a good hit of iron in them thanks to the spinach and the amount of cheese is actually quite small, so you know you're not overdoing it too much. If you have leftovers you want to eat the next day, make sure you reheat them in the oven instead of the microwave to keep the pastry nice and crispy. Enjoy!
Ingredients
1 sheet of frozen puff pastry, defrosted
2 teaspoons olive oil
2 garlic cloves, diced
200g fresh spinach, chopped or torn into pieces
Salt and pepper, to taste
50g Parmesan cheese, grated (fresh is best)
25g crumbled Feta cheese
Method
1. Sprinkle a bit of flour over a clean, dry surface, then lay pastry on top. Using a rolling pin, roll the pastry into a 25cmx35cm rectangle of even thickness.
Ad. Article continues below.
2. Heat a large frying pan over a medium heat and add olive oil to pan. Add the garlic and allow to cook for about a minute. Add spinach and stir together. Allow spinach to cook for 2-3 minutes, stirring occasionally until wilted. Season with salt and pepper to taste.
3. Spread spinach evenly across surface of puff pastry. Sprinkle Parmesan and Feta cheeses evenly over top of spinach, covering the entire surface of the pastry.
4. With the longer side of the pastry rectangle facing you, roll the pastry by pushing forward, wrapping the ingredients into a long roll. Once the pastry is completely rolled up into a big log shape, wrap it in baking paper or cling wrap and place it in freezer for 30-40 minutes. This will make it easier to cut into circles.
5. Preheat oven to 200C. Line a large baking tray with baking paper and set aside. Take pastry log out of the freezer and use a serrated knife to slice it into 24 round discs. Place spirals on baking tray and cook in oven for 20 minutes or until lightly golden. Serve warm.