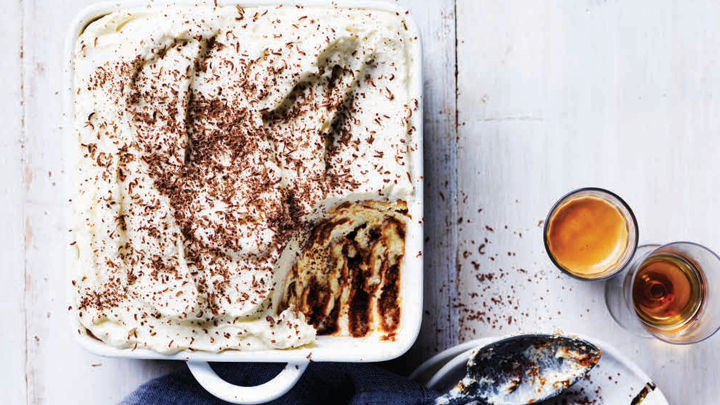 My mum, Cathy, taught me this dessert. It's incredibly easy and very flexible. So, with apologies to all purists and Italian cooking aficionados, the only essential ingredients for me are the sponge fingers, the cream and the coffee. Everything else is up for grabs.
CHEAT'S TIRAMISU
SERVES 12
Ingredients
Ad. Article continues below.
2-3 cups strong black coffee (somewhere
between long black and espresso)
Sugar (1½ teaspoons for each cup of coffee)
Dark rum (2 teaspoons for each cup
of coffee)
2 egg yolks
4 drops pure vanilla essence
250g mascarpone, at room temperature
600ml thick cream, whipped until firm peaks
1 cup ground almonds
2 packets sponge finger biscuits (savoiardi)
Shaved dark chocolate
Method
Pour the warm coffee into a bowl, add the sugar and stir until dissolved. Add the rum and refrigerate until cold.
Whisk the egg yolks until light and creamy, add the vanilla and then gradually add the mascarpone until well combined. Fold in the whipped cream and the ground almonds.
Spread a rectangle of the cream mixture on a serving plate.
Pass the sponge fingers through the coffee until they are soaked (but not soggy) and place flat, one by one, on top of the cream, until the dessert is about the right length (maybe 8 sponge fingers).
Spread another thick layer of creamy mixture over the sponge fingers, then begin a second layer of fingers. Spread a third layer of cream mixture, then fingers, then top with a final layer of the cream.
Cover the sides with the cream as well to make a rectangular log. Cover and refrigerate overnight.
Sprinkle with shaved chocolate to serve.
UP FOR GRABS:
Ad. Article continues below.
If you don't like sugar, leave it out.
If you don't want to use rum, you can substitute a few drops of rum essence for the vanilla, or not use it at all.
If you don't want to add mascarpone, leave it out, and probably the egg yolks as well.
If you don't want to add ground almonds, that's okay too.
If you don't want to use shaved chocolate, try lightly browned slivered almonds or crumbled Italian amaretti.
Ad. Article continues below.
If you love chocolate, you could sprinkle it between each layer too.
If you love chocolate and amaretti, go ahead and use both!
Today you can go into the draw to win a copy of Margaret Pomeranz' latest recipe book, Let's Eat! 
Tell us in 25 words or less, what you love most about a family meal to go into the draw…