Cheap, easy, bacon and chicken liver pâté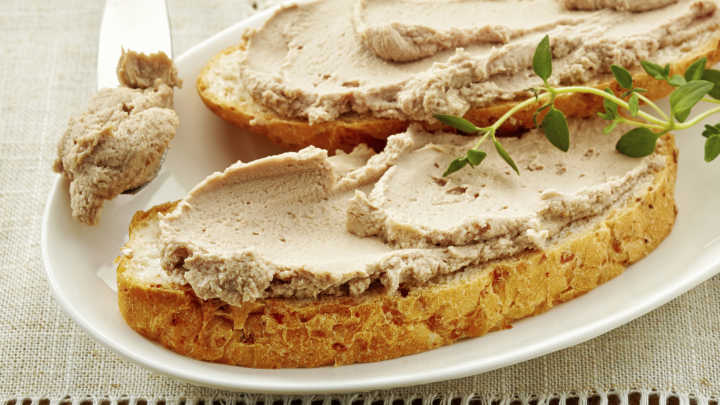 Wait! Don't roll your eyes or groan. Chicken liver is one of the most underrated foods out there. Available at any decent grocery store/ butcher, chicken livers are actually delicious.
Many people object to eating chicken liver before even trying it. Yet according to this article, chicken liver is one of the most nutrient rich proteins out there, and has between 10 – 100 times more vitamins A, D, E, K and B12 then other proteins.
This combined with the fact that chicken livers cost next to nothing, makes this a food you should consider trying before you discard the thought of ever using it in your cooking.
Served on crunchy bread, this bacon and chicken liver pâté is an easy, cheap and delicious way to kick start any event. Be it just afternoon drinks, or a fancy gourmet dinner. You will turn heads and create smiles with this recipe.
Ad. Article continues below.
Bacon and chicken liver pâté
Prep time: 15 minutes
Cooking time: 30 minutes
Serves 6
Ingredients
Ad. Article continues below.
250gm bacon
500gm chicken livers, sinew removed, rinsed and dried
5 garlic cloves
2 ¼ teaspoons dried thyme
2 ¼teaspoons dried rosemary
1/2 teaspoon unrefined sea salt
1/3 cup bacon grease (if you don't have enough after cooking the bacon, top it off with another oil such as coconut oil, butter, or pastured lard)
herbs for garnish (optional)
Equipment
Food Processor
Method
Remove white sinew from chicken livers and liver into small pieces.
In a medium pan, cook all the bacon until crisp and set aside on a plate. Pour most of the bacon grease into a measuring cup, but leave enough behind to leave the bottom of the pan well-coated.
In the same pan, add the garlic and sauté for a couple of minutes over medium heat.
Add the chicken livers, thyme and rosemary. Cook until the livers are no longer pink in the center. Remove everything from the pan and set aside to cool for a few minutes.
While you're waiting for the livers to cool, add enough coconut oil (or oil of your choice) to the bacon grease to equal 1/3 cup.
Add liver mixture, bacon, salt and 1/3 cup fat to the food processor. If desired, you can keep a few pieces of bacon out to use as a garnish.
Process the mixture until it forms a paste. Transfer to bowls, add garnish if desired, and serve immediately. We love to cut carrots in to long "chips" and use them as crackers.
Ad. Article continues below.
Notes: If you don't serve right away put the pâté in the fridge, then remove when needed and allow to warm to room temperature before serving.
Do you use chicken livers in your cooking at all? Share your favourite recipes in the comments below.