Cheap and cheerful pork larb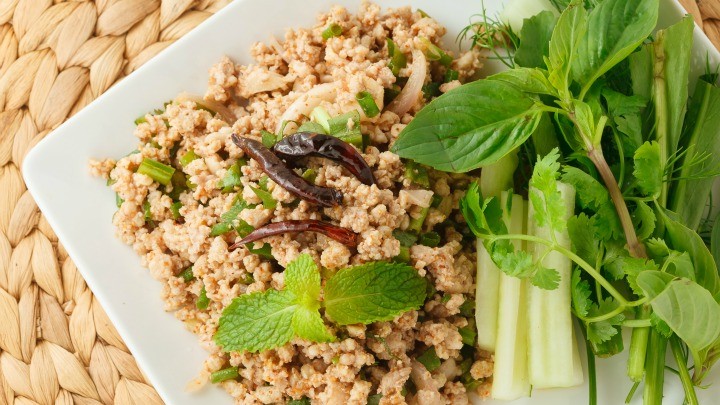 This flavour-packed dish is so unbelievably easy to make and, better still, it's cheap and healthy, too.
Pork mince is great value for money, is heart-healthy and makes a nice change from chicken. This recipe also makes use of both the roots and leaves of the coriander plant, which is both frugal and flavoursome.
In south-east Asia, larb would be served with rice, extra herbs such as Thai basil, beans and other green vegetables.
Ingredients
1 tbsp white rice
4 spring onions, finely chopped (keep the white and green sections separated)
3 coriander stems and roots, chopped
2 cloves garlic, chopped
¾ cup chicken stock or water
280g pork mince
1 tbsp fish sauce
1½ tbsp lime juice (can use lemon)
½ tsp chilli flakes
¼ cup coriander leaves
¼ cup mint leaves, torn
Ad. Article continues below.
Instructions
Toast the rice in a frying pan with no oil over medium high heat for around three minutes until golden. Pound rice in a mortar and pestle until finely crushed. Set aside for later.
Add the white part of the spring onion, plus the coriander roots, and garlic to the mortar and pound into a smooth paste. Bring the chicken stock or water to the boil in a medium-size saucepan. Add the onion-coriander paste you've made, reduce the heat to medium and cook, stirring, for 3 minutes.
Add the pork and stir well to combine. Stir-fry for 3–4 minutes until the pork is just cooked. Remove from the heat and strain, (reserving the liquid). Add 1 tablespoon of the reserved liquid, plus lime juice, fish sauce and chilli flakes to the pork and toss to combine.
Cool for five minutes.
Add the green part of the spring onion, herbs and the rice powder to the pork and toss gently. Taste and adjust the seasoning adding more lime juice, fish sauce or chilli depending on your taste.
Serve over rice, with green vegetables on the side, if desired.