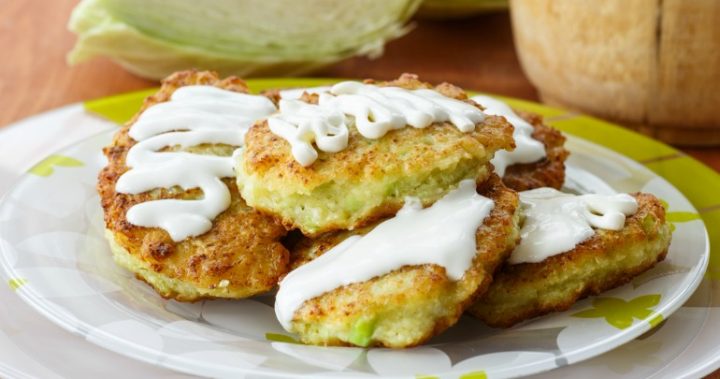 There are so many different recipes for patties out there, but you've got to give these cauliflower patties a go! They are super moist and cheesy on the inside and lovely and crunchy on the outside! They make a great quick and easy dinner and are perfect for lunch the next day.
Serve them up with a yoghurt dressing, which you can easily make by squeezing some lemon juice into three tablespoons of greek or natural yoghurt and adding a little salt and peeper. Plate up with a mixed leaf salad and you're good to go!
Ingredients
1 small cauliflower (600g), trimmed and finely chopped
1 garlic clove, crushed
4 spring onions, finely sliced
1 red chilli, deseeded and chopped
75g Parmesan, grated
1 lemon, zested
150g fresh brown breadcrumbs, toasted
4 tablespoons plain flour
1 egg, beaten
Olive oilspray, for baking
Method
Ad. Article continues below.
1. Heat oven to 220C/200C fan/gas 7. Boil the cauliflower in salted water for 5 minutes until soft. Drain, put back in the pan to steam off the excess water, then tip into a bowl to cool. Add the garlic, spring onions, chilli, parmesan, lemon zest, 50g of the toasted breadcrumbs, the flour, egg, and some seasoning. Shape into 16 cakes, then roll in the remaining breadcrumbs. Put on a plate and chill for at least 1 hour, or overnight, before cooking.
2. To make the sauce, put all the ingredients in a food processor or blender. Add some seasoning and blend until smooth. Pour into a serving bowl and set aside. Can be made a day ahead.
3. Liberally spray a large baking sheet with the oil. Put the cauliflower cakes on top and spray well again. Bake for 25 minutes until golden and crisp.
—————————————————–
If you'd like to see more recipes from Starts at 60, click here. And if you have a recipe you'd like to share with the Starts at 60 community – we'd love to share it! Submit them to us by completing the form below.
Submit your article here