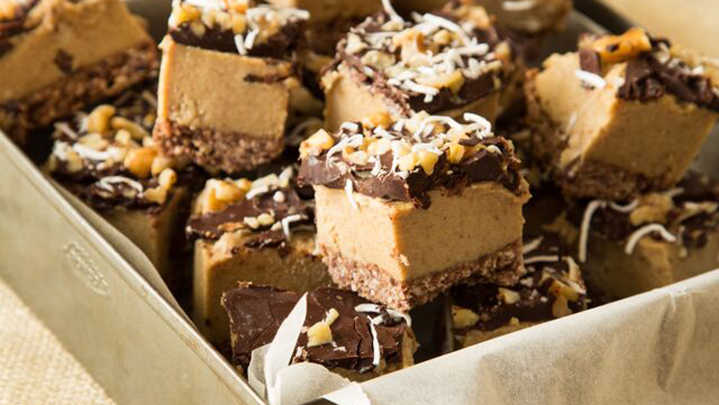 When made well, a caramel slice is one of the most delicious treats you can have!
This great recipe is quite nutty, but you can have it without. Enjoy!
Ingredients
Base
fine rolled oats – ¾ cup (you can also use ground almonds as a gluten -free alternative)
coconut thread – ¾ cup
good quality dark cocoa powder – 1 tablespoon (I used Equagold's Dutch
cocoa powder)
medjool dates x 6, pitted
raw almonds – ½ cup
pinch of salt
coconut oil – 6-8 tablespoons, melted
Ad. Article continues below.
Date and cashew caramel filling
dried pitted dates, 400g
boiling water – ¾ cup
cashew nuts – 2 cups softened**
pure maple syrup – ¼ cup (not the stuff that's artificially flavoured with sugar!)
coconut oil – ½ cup melted
vanilla extract – 1 teaspoon
Chocolate and walnut topping
good quality dark chocolate – 150-200g (check dairy-free if required)
neutral oil – 1 teaspoon (e.g. walnut, canola, soy)
walnuts – 1/3 cup chopped (optional)
coconut thread – 1-2 tablespoons (optional)
Method
Ad. Article continues below.
Preheat oven to 180 degrees. Lightly grease and line the bottom and sides of a square baking tin (20cm x 20cm) with baking paper.
Place oats/ground almonds, coconut thread, cocoa powder, medjool dates, almonds and salt in a food processor and blitz until a fine, crumbly texture. Drizzle in melted coconut oil/butter and pulse until well combined and the
mixture holds together when you pinch it between your fingers.
Press mixture into the prepared baking tin, pressing down firmly with the back of a spoon or spatula. Bake for 10-15 minutes until light golden. Set aside in the fridge to cool while you make the caramel.
To make the caramel, place dates and water in a medium-size pot and boil, stirring frequently, until the dates are very soft and mushed up, and all the water has evaporated. Place dates in the food processor along with the softened cashew nuts, maple syrup, coconut oil/butter and vanilla. Blitz until nice and smooth – this will take at least a few minutes. scrape down the sides of the food processor a few times to make sure everything has been blended.
Spread caramel all over the base in the baking tin. Set aside in the fridge to set for at least 4 hours or the freezer for at least 2 hours, or until the filling is firm.
Melt chocolate in the top of a double boiler or in a glass bowl set above a small pot of simmering water. Mix in oil if using. Pour melted chocolate all over the filling and spread it over evenly. Return to the fridge for about 20 minutes, or until set. If it still seems a bit soft, return to the fridge/freezer for a bit longer.
Cut into about 25 pieces (a long, sharp serrated knife dipped in hot water will help a lot! I also find it easier to flip the whole caramel slice upside-down and cut through the base down). The slice will keep for up to a week in the fridge.
Ad. Article continues below.
** To make softened cashew nuts, either soak in water overnight, or boil cashew nuts in a pot of water for about 15 minutes or until soft. Drain.
This great recipe was created by MasterChef NZ winner, NZ My Kitchen Rules judge, award winning cookbook author and co-founder of My Food Bag, Nadia Lim.
Recently reaching Australia's shores, Nadia is bringing with her a refreshing 'Nude Food' philosophy that is changing the way Australians approach healthy eating. With the consistent aim of helping people eat in a more nutritious, delicious way by getting back to basics and stripping away the distractions of food fads, diets and marketing hype, Nadia's down-to-earth, simple approach to healthy eating is accessible to everyone.
Her latest book Cook Healthily, Lose Weight  is due for release in September and can be pre-ordered here.