Caramel and chocolate crumble slice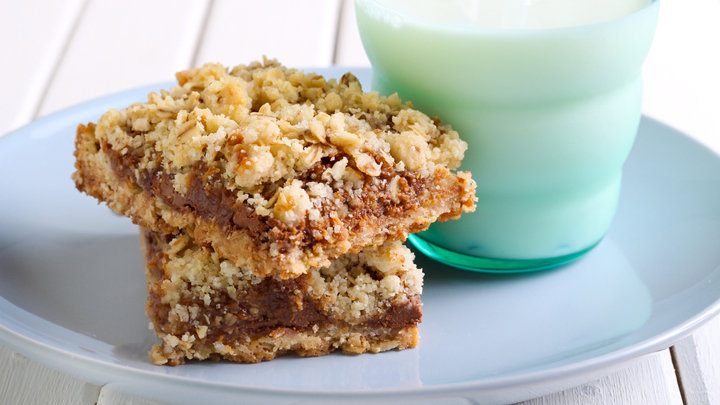 Even saying 'caramel and chocolate crumble' makes our mouth water. This layered slice has a chocolate and gooey middle and crust topping. The oats add a bit of chewiness and the melted caramel oozes from the slice. If you desire, you can also add salt, to taste, to create a salted caramel slice. The only down side is you'll have to wait a few hours, to let the bars set, before slicing.
Ingredients
3/4 cup unsalted butter, melted
3/ 4 cup light brown sugar, packed
1 tablespoon vanilla
1 cup plain flour
1 cup whole-rolled old fashioned oats
1 teaspoon baking soda
1 cup caramel sauce, or more/less depending on taste preference
1/2 cup heavy cream
1/2 teaspoon salt, optional and to taste, if you prefer salted caramel sauce
1 cup semi-sweet chocolate chips or chunks
Method
Preheat oven to 175C. Line an 20x20cm pan with alfoil and spray with cooking spray. This will help with clean up!
Melt butter and then add the brown sugar, vanilla, and whisk until smooth.
Add the flour, oats, baking soda, and stir until combined. (Mixture will be quite thick).
Add half of the mixture to the prepared pan, and smooth it with the back of a spoon, to create an even, flat layer; set remainder aside.
Bake for 10 minutes.
Caramel sauce: in a large microwave-save mixing bowl, combine the caramel and cream; heat until mixture can be stirred smooth. Or, combine caramel and cream in a medium saucepan, and heat over medium-low heat to melt, stirring continuously.
Optional: stir in 1/2 teaspoon salt, or to taste, for salted caramel sauce; set sauce aside.
Remove pan from the oven and evenly sprinkle with the chocolate.
Evenly pour caramel sauce over the chocolate.
Evenly crumble reserved oatmeal-brown sugar mixture over the top.
Return pan to oven and bake for about 15 to 18 minutes or until brown.
Allow bars to cool completely in the pan before slicing (give the caramel time to firm up). This can take up to 4 hours, or overnight, at room temperature. You can speed it up by placing pan in fridge with a sheet of foil over the top.
Ad. Article continues below.
If you'd like to see more recipes from Starts at 60, click here. And if you have a recipe for the Starts at 60 community – we'd love to share it! Simply fill in the form below.
Submit your article here