Bread and butter pudding with brandy sauce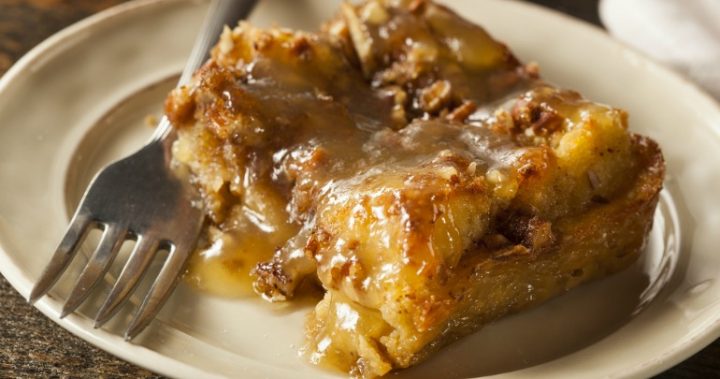 This pudding maybe considered 'peasant food', but what it lacks in finesse it makes up for in flavour! Try and squeeze this dessert in before summer really hits because it's one of the most comforting and delicious winter dishes you can eat. The pudding itself it super tasty thanks to all the gorgeous spices, butter and and cream, but it's the brandy sauce that really takes things to the next level. Pour it all over the pudding and serve it up with thickened cream or a nice scoop of vanilla ice cream. Enjoy!
Ingredients
10 slices day old bread, broken in pieces
4 cups milk, scalded
1 cup cream
4 eggs
1 cup caster sugar
1 teaspoon vanilla
1 teaspoon cinnamon
1⁄2 teaspoon nutmeg
1⁄4 cup butter, melted
1⁄2 cup seedless raisins
Brandy sauce
3 egg yolks
1 cup caster sugar
1 teaspoon vanilla
1 1⁄2 cups milk
1 tablespoon cornstarch
1⁄4 cup water
3 tablespoons brandy (or more to taste)
Ad. Article continues below.
Method
1. Preheat oven to 180C. Combine bread, milk and cream in a large bowl. Whisk eggs, then add sugar and mix well. Stir egg mix into bread mixture and add vanilla, cinnamon and nutmeg. Then stir in butter and raisins.
2. Pour mixture into buttered baking dish, set in a pan of warm water about 1 inch deep. Bake for 1 hour or until knife inserted in centre comes out clean.
3. While pudding is cooking, prepare whiskey Sauce: In a saucepan slightly beat egg yolks then add sugar, vanilla and milk and blend well. Cook over low heat until mixture comes to a boil. Blend cornstarch in water and stir into hot mixture. Continue cooking until thickened. Remove from heat and stir in brandy. Serve when cooled.
—————————————————–
If you'd like to see more recipes from Starts at 60, click here. And if you have a recipe you'd like to share with the Starts at 60 community – we'd love to share it! Submit them to us by completing the form below.
Submit your article here