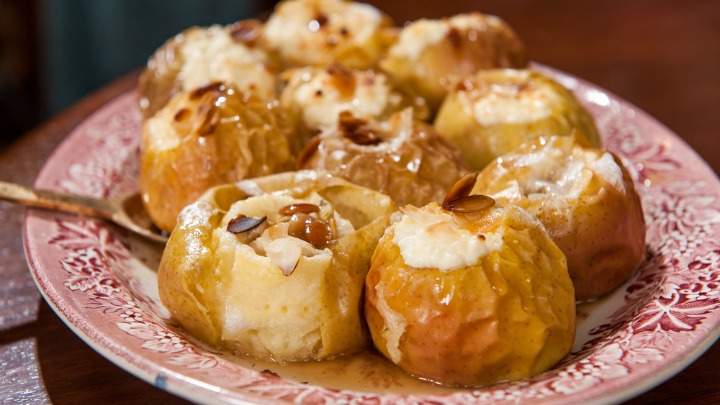 Is there a winter dessert out there better than this? These amazing boozy baked apples are the perfect winter treat and a great way to warm up on a cold night. The sauce created out of the brandy, orange juice and nature juices from the apples is absolutely gorgeous and really takes the dish to new heights. To really take it over the edge though, serve the apples with custard, thickened cream or ice cream and spoon over the extra sauce left in the baking tray. You'll be making this one again in no time.
Ingredients
4 apples
50g butter (room temperature)
2 tbsp brown sugar
Handful each of ready to eat juicy dried apricots, figs and dates all chopped finely
1 tsp ground cinnamon
Juice of 2 organic oranges
5 tbsp brandy
Custard, thickened cream or ice-cream, to serve
Method
1. Preheat oven to 190C. Core the apples, leaving them whole but score the skin around the middle, and place in a baking dish.
Ad. Article continues below.
2. Cream together the butter, brown sugar and stir in all the dried fruits and cinnamon. Stuff the cored apples with mixture, placing any left over in the middle space between the four apples. Pour the orange juice and brandy over the apples and cover the dish with foil before baking in oven for about 35 mins.
3. Remove the foil and put back in oven for another 15 mins until the apples are tender. Serve with the boozy juice liberally spooned over the top and add the appropriate helping of custard, cream or ice cream to taste. Serve immediately.
—————————————————–
If you'd like to see more recipes from Starts at 60, click here. And if you have a recipe you'd like to share with the Starts at 60 community – we'd love to share it! Submit them to us by completing the form below.
Submit your article here