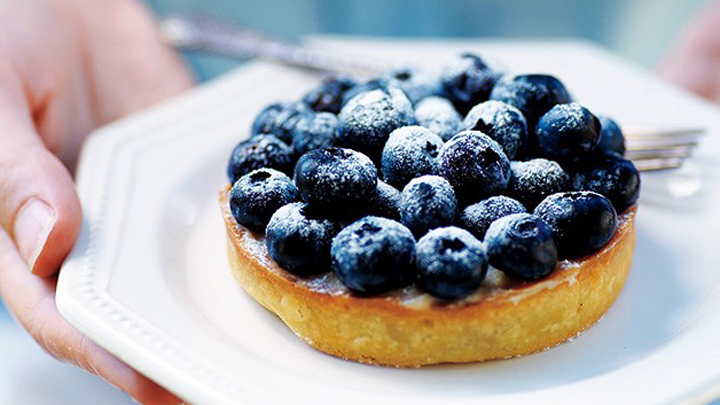 If you're looking for a little dessert challenge, try this tart recipe. Not only does it look great, it is packed with great taste. This oh-so-sweet and delicious tart perfectly combines a crispy pastry, rich filling and fresh blueberries.
Ingredients:
Tart
225g unsalted butter
100g caster sugar
1 egg, beaten
350g plain flour
3-4 punnets ripe blueberries, rinsed and towel dried
To dust: icing sugar
Ad. Article continues below.
Frangipane filling
100g unsalted butter
100g caster sugar
3 eggs
40g plain flour
125g ground almonds
Vanilla custard filling
1 litre (4 cups) milk
2 vanilla beans, split
250g white sugar
6 egg yolks
40g plain flour
40g corn flour
Method:
Ad. Article continues below.
For the frangipane filling, in an electric mixer beat the butter and caster sugar for 2 minutes, then add the eggs, slowly, beating until well combined. Stop the mixer. Sift the flour and ground almonds and add to the butter mixture. Beat for 1 minute, transfer to a bowl and refrigerate overnight covered with plastic wrap.
Cream the butter and sugar together in a bowl until very pale, then beat in the egg. Gradually add the flour and mix to a smooth paste. Refrigerate for 1-2 hours. Roll out the pastry to 3mm thickness and use to line 8 individual 7.5cm-diameter tartlet tins. Chill in the refrigerator for 20 minutes. Preheat oven to 180C and blind bake for 10 minutes or until golden brown. Remove from oven, add a tablespoon of frangipane filling to each tart and bake for a further 10 minutes or until golden brown.
For the vanilla custard, bring the milk, vanilla beans and sugar to the boil, slowly. Cream egg yolks and flours together and pour the slowly boiled liquid into this egg mixture once the vanilla beans have infused well. Mix well. Return the entire mixture to the heat, and cook on medium heat, stirring until thickening occurs. Continue to mix on low heat and 'cook out' the flour taste for a further 5 minutes. Pass through a sieve and place into a bowl with some baking paper on top to stop a skin from forming. When the mixture has cooled to room temperature, spoon a level amount of the custard into each cooked pastry tart.
While the vanilla custard is still at room temperature in the tart shells, place the blueberries tightly packed on top of the custard, dust with icing sugar and serve.
When was the last time you tried a new dessert recipe? Share with us below!