Blueberry crumble muffins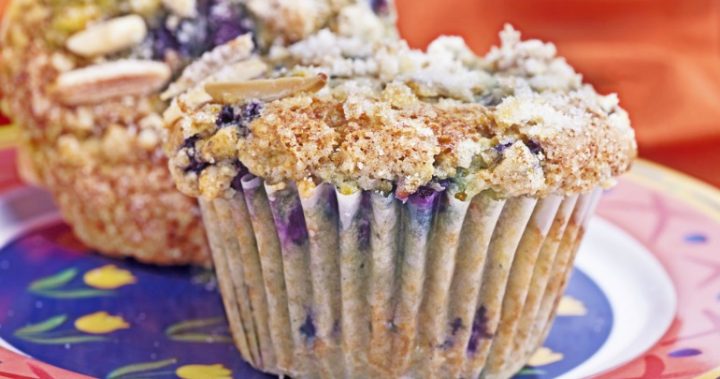 These lovely little muffins are a great tea-time treat for any occasion. Enjoy them at home with a nice cuppa or take them to a family picnic or lunch – they'll be a hit every time! The crumble on top is delicious (you can even sprinkle over a few almond slivers before baking, like in the picture), while the muffin itself is so light and fluffy with those fresh little bursts of flavour thanks to the blueberries. Delish!
Ingredients
Crumble
3/4 cup plain flour
3 tablespoons brown sugar
1/4 cup unsalted butter, chilled
Blueberry muffins
Ad. Article continues below.
2 and 1/2 cups plain flour
2 teaspoons baking powder
1/2 teaspoon baking soda
1/2 cup brown sugar
1/2 cup caster sugar
1/2 cup unsalted butter
1 teaspoon vanilla extract
2 large eggs
1 cup buttermilk
1/4 cup boiling water
1 cup frozen or fresh blueberries
Method
1. Preheat oven to 200C. Grease a 12-hole muffin pan with butter. First make crumble. Put flour and sugar in a small bowl. Cut butter into small pieces and rub into the flour mixture using fingers until it forms small crumbs. Cover and place in the fridge.
2. In a large mixing bowl, sift flour, baking powder and baking soda. Add sugars and mix together with a wooden spoon. In the microwave, heat butter in a large heatproof bowl until just melted, stirring in between 10 second bursts. Remove the butter and set aside to cool slightly. Meanwhile turn the kettle on and pour out 1/4 cup of boiling water and set aside.
3. Add vanilla, eggs and buttermilk to cooled butter and whisk gently until combined. Make a well in the middle of dry ingredients, add the wet ingredients and begin to fold. Very gently start to fold the mixture using a spatula or wooden spoon and then pour in the hot water. Fold until the mixture is just combined – be careful not to over mix. Stir in the blueberries gently.
Ad. Article continues below.
4. Spoon out mixture into prepared tin. Add crumble on top of each muffin. Bake for 5 minutes before turning down the heat 180C and baking for a further 10-15 minutes (this will depend on your oven) or until a knife inserted into the middle comes out clean. Leave muffins to cool completely on a cooling rack before taking out of tray.
—————————————————–
If you'd like to see more recipes from Starts at 60, click here. And if you have a recipe you'd like to share with the Starts at 60 community – we'd love to share it! Submit them to us by completing the form below.
Submit your article here