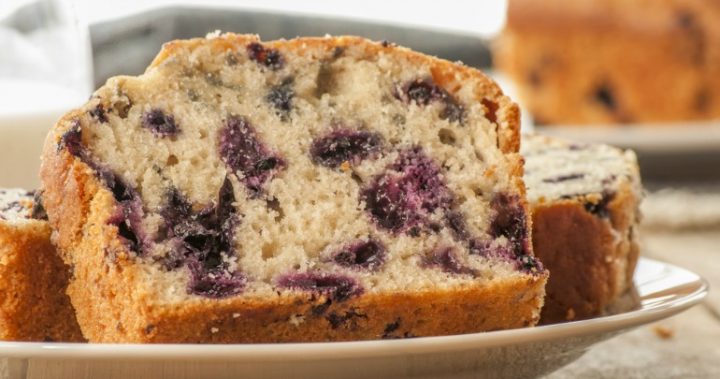 Afternoon tea doesn't get much better than this! This amazing lemon and blueberry loaf takes things up a notch thanks to a few extra special ingredients… Coconut oil and greek yoghurt help create the perfect moist cake, but keep it light and refreshing at the same time. The brown sugar and vanilla bring that lovely spice and warmth, while the blueberries give a fresh burst of sweetness with every bite! Serve warm with a little butter or enjoy at room temperature with a nice cuppa. Enjoy!
Ingredients
¾ cup coconut oil, melted and cooled slightly
1 cup brown sugar
3 eggs
½ teaspoon vanilla extract 1
tablespoon lemon zest
1 cup plain greek yogurt
¼ cup lemon juice
2 cups all-purpose flour
1 teaspoon baking powder
½ teaspoon baking soda
½ teaspoon sea salt
1 cup blueberries, fresh or frozen
Method
1. Preheat the oven to 350C. Grease a 9×4 loaf pan. In a large bowl, use a hand or electric mixer to beat the coconut oil and sugar until well blended. Beat in the eggs one at a time. Add the vanilla, lemon zest, and lemon juice and mix.
Ad. Article continues below.
2. In a medium bowl, combine the flour, baking powder, baking soda, and salt. Gently stir the dry ingredients into the wet ingredients until just incorporated. Fold in the blueberries and pour the mixture into the prepared loaf pan.
3. Bake for 1 hour and 15 minutes, or until a toothpick inserted into the centre of the loaf comes out clean. Transfer the loaf to a baking rack to cool completely. In a small bowl, whisk the lemon juice and powdered sugar to create the glaze.
—————————————————–
If you'd like to see more recipes from Starts at 60, click here. And if you have a recipe you'd like to share with the Starts at 60 community – we'd love to share it! Submit them to us by completing the form below.
Submit your article here