Blackberry and apple crumble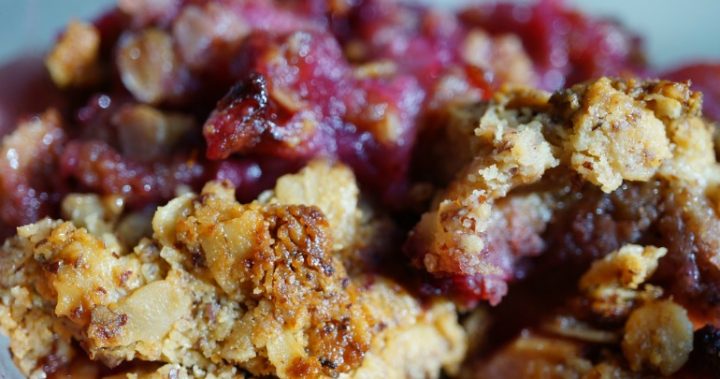 Crumbles are such a great dessert option when you want something sweet and delicious without any of the fuss. When it comes to the fruit you can use pretty much anything that's available and in season, but this version takes advantage of sweet and juicy blackberries and crisp apples. The crumble on top is extra special thanks to the addition of pecans, cranberries and brown sugar, which gives is a lovely and rich flavour. Serve the crumble in a bowl and add a nice big scoop of vanilla ice cream on top.
Ingredients
2 medium apples, peeled, cored and sliced
1 cup blackberries, fresh (frozen is fine, just partially thaw first)
2 tablespoons white sugar
1 teaspoon cornstarch
Crumble Topping
⅓ cup plain flour
1 teaspoon cinnamon powder
¼ teaspoon nutmeg powder
½ cup rolled oats
4 tablespoons unsalted butter, melted
3-4 tablespoons brown sugar
⅓ cup chopped pecans
¼ cup dried cranberries
Zest of 1 small lemon
Vanilla ice cream, to serve
Ad. Article continues below.
Method
1. Toss apple blackberries, cornstarch and sugar in a bowl. Once everything is combined, transfer the apple and blackberry mixture to a baking dish.
2. In another bowl, combine flour, cinnamon powder, nutmeg powder, rolled oats and coconut or brown sugar. Add in chopped pecans and cranberries. Drizzle melted butter and mix with a fork to form crumble.
3. Spread the crumble topping evenly on top of the fruits in the baking dish. Sprinkle lemon zest on top. Bake at 180C for 40-45 minutes or until crumble is golden brown and fruits are cooked and bubbly. Once cooked, remove from oven and leave to sit for 5 minutes before serving with ice cream.
—————————————————–
If you'd like to see more recipes from Starts at 60, click here. And if you have a recipe you'd like to share with the Starts at 60 community – we'd love to share it! Submit them to us by completing the form below.
Submit your article here