Bitter orange and cherry zucotto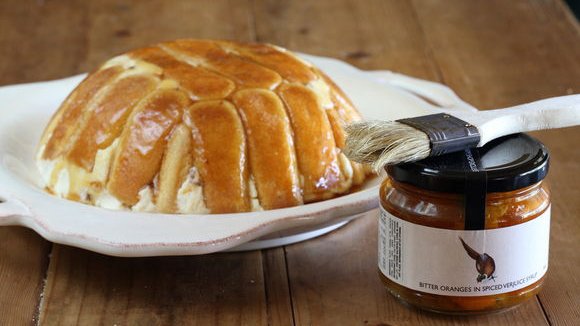 This delicious zucotto makes for a great finish to any Christmas lunch. Don't be put off with the number of steps it takes to make this dish. The recipe is a cinch and can be made by even the most novice of bakers.
Bitter orange and cherry zucotto
Prep time: 10 mins
Ad. Article continues below.
Cook time: 20 mins
Ingredients
750g best quality fresh ricotta
130g Bitter Oranges in Spiced Verjuice Syrup chopped
70g dried cherries or cranberries
3 tbsp Verjuice to steep the cherries in
4 tbsp caster sugar
1 tspn minced glace ginger
200g sponge finger
1/3 cup glaze from bitter oranges
Method
Take a 1.5 litre bowl or dish and line it with cling film.
Place the cherries into a glass bowl and pour over the Verjuice. Place this into the microwave on a defrost setting for 3 minutes.
Remove from the microwave and allow to stand for 5 minutes or until soft. Drain cherries and reserve the liquid.
In a large mixing bowl combine ricotta, chopped oranges, cherries, sugar and glace ginger. Mix well.
In a smaller bowl combine reserved cherry liquid and Orange Glaze.
Brush the sponge finger biscuits with the combined glaze liquid.
Place some of the biscuits on the base of the lined bowl and then place a layer around the sides.
Fill with the ricotta mixture and then top with more biscuits.
Cover with cling film and a baking tray to sit over the top. Cover the baking tray with a weight and press in the refrigerator overnight.
Once chilled invert the bowl onto a serving plate and slice
Ad. Article continues below.
Source: maggiebeer.com.au
You can find a variety of fantastic recipe ideas at maggiebeer.com.au
This recipe and many others can be found in the cookbook, Maggie's Christmas, which you can buy here.