Better-for-you carrot cake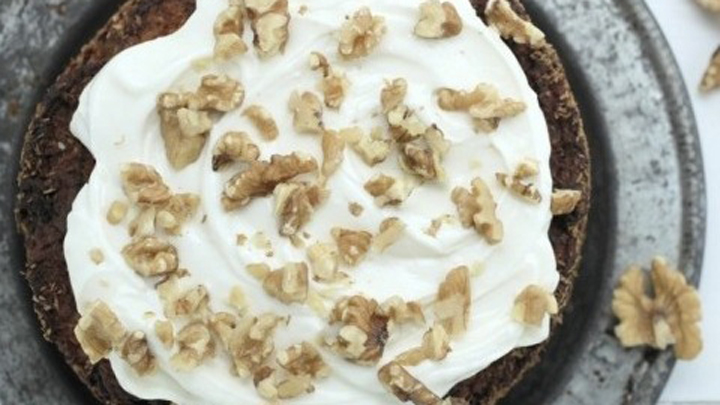 Love carrot cake? Here is a cheat recipe that allows you to eat cake and not feel so guilty!
The ingredients and steps are simple. You may already have them at home!
Prep time: 5 minutes
Cooking Time: 1hr 30 minutes
Total Time: 1hr 35 minutes
Ad. Article continues below.
Ingredients
500 g grated carrots
3 eggs
2 teaspoons vanilla extract
2 teaspoons cinnamon
½ teaspoon nutmeg
300 g almond meal
60 ml macadamia nut  oil or your choice or cold pressed coconut oil or quality butter
160 g organic maple syrup or honey
1 cup raisins
2 teaspoons gluten free baking powder
Method
Preheat your oven to 160 C.
Combine carrot, eggs, vanilla, cinnamon, nutmeg, almond meal, oil, honey, raisins and baking powder.
Mix well until combined.
Pour into a prepared 20 cm baking tin.
Bake for 1 –  1½  hours or until cooked through.
Cover if necessary with foil.
Remove from the oven and cool completely in the tin then turn out.
Serve alone or topped with thick natural yoghurt or topping of your choice.
Keeps in the fridge for up to 5 days – it freezes well too!
Serves 16.
Ad. Article continues below.
Recipe from TheHealthyChef.com
How do you make your best carrot cake?