Best ever blueberry cobbler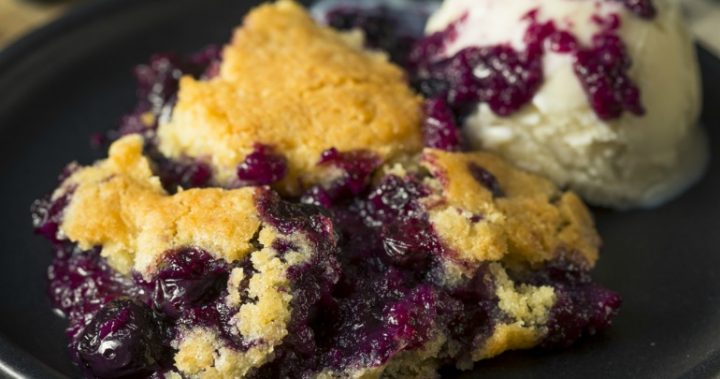 What could be better for a warming dessert on a cold night that a freshly-baked blueberry cobbler? Absolutely nothing! Give this brilliant recipe a whirl, and make sure you get plenty of cream or vanilla ice cream to go with it!
Ingredients
6 cups (850g) fresh or frozen blueberries
1 cup granulated sugar
2 teaspoons freshly grated lemon zest
3 tablespoons plain flour
1 cup plus 5 tablespoons plain flour
6 tablespoons granulated sugar
1½ teaspoons baking powder
¼ teaspoon salt
6 tablespoons unsalted butter, chilled chopped into small pieces
1 large egg, lightly beaten
1 teaspoon vanilla extract
1 tablespoon granulated sugar
½ teaspoon ground cinnamon
¼ teaspoon freshly ground nutmeg
Method
1. Preheat oven to 190C and lightly grease a 25cm round pie or quiche dish.
2. For the blueberry filling, place the blueberries in the prepared dish. Combine lemon zest and sugar in a small mixing bowl. Add the flour and whisk until well combined. Sprinkle sugar mixture over berries, and toss to combine.
3. For the biscuit topping, mix together flour, sugar, baking powder and salt. Stir butter into mixture, until crumbly. Fold egg and vanilla into mixture until a dough forms; work with your hands, taking care not to over mix.
4. Sprinkle the dough topping evenly over the berries, followed by the remaining sugar, and the cinnamon and nutmeg.
5. Bake for about 40 to 45 minutes, until topping is golden brown and filling is bubbling. To prevent over browning, cover with foil 25 minutes into cooking.
6. Serve with plenty of whipped cream or ice cream!