Behold: the Great Aussie Milo cheesecake with chocolate crackle base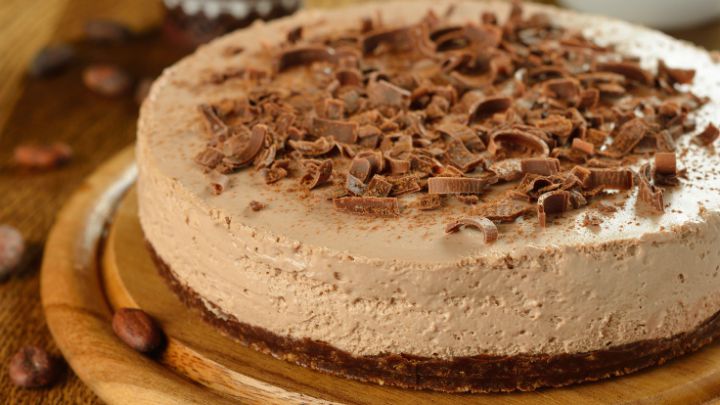 This fabulous recipe gives the humble cheesecake an Aussie twist. Not only does it make use of our childhood favourite, Milo, but it has a chocolate crackle base – perfect for the big kid in all of us.
Ingredients
250g good quality milk chocolate
1/3 cup desiccated coconut
2 cups Rice Bubbles
300ml (about 1 and 1/4 cups) thickened cream
340g cream cheese, softened
1/3 cup (75g) caster sugar
200ml (about 3/4 cup) milk
1 and 1/2 cups Milo powder (can substitute with Ovaltine or malted milk powder + cocoa to taste)
4 tsp powdered gelatine
Optional: chocolate shavings or extra Milo to decorate
Instructions
If using, shave a small amount of chocolate for decoration, and store in the fridge.
Grease and line the base of a 18cm or 20cm springform tin.
Finely chop the chocolate and place in heatproof bowl and place bowl over a small saucepan of simmering water and stir until melted.
Stir in the coconut and rice bubbles.
Pour mixture into prepared tin and flatten into the base of tin in an even layer.
Set aside in the fridge for at least half an hour or until the chocolate is set.
Meanwhile, whip cream in a mixing bowl until it reaches soft peaks.
Place cream cheese in a separate large mixing bowl and beat with an electric mixer on high until smooth.
Add sugar and beat until combined.
Place gelatin in a small separate bowl with 3 tbsp cold water to soften.
In a small saucepan, heat milk until it just comes to a boil, remove from heat then whisk in milo powder to dissolve.
Add softened gelatine and whisk again to combine, making sure there are no lumps.
Add warm milk mixture to cream cheese and beat until smooth.
Fold in whipped cream until smooth and then pour mixture over base.
Chill for at least three hours or overnight.
Decorate with chocolate shavings, or sprinkle with extra Milo
To serve, run a thin-bladed knife under hot water and then carefully run around the edge of the pan to loosen the cake.
Carefully remove from pan and serve, or store in an airtight container in the fridge until ready to serve.
Ad. Article continues below.
—————————————————–
If you'd like to see more recipes from Starts at 60, click here. And if you have a recipe you'd like to share with the Starts at 60 community – we'd love to share it! Submit them to us by completing the form below.
Submit your article here