Beef stroganoff with a tomato twist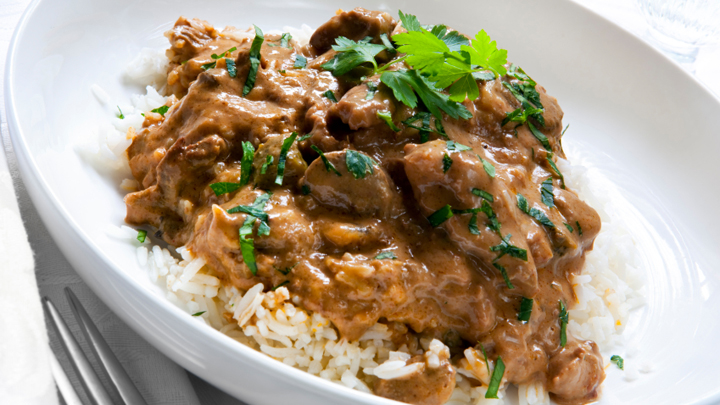 On a chilly winter night, this classic dish is the ultimate comfort food and is wonderfully easy to prepare. It acts and tastes like a stew, but is actually a quick-cooking and delicious dish. It's packed with tender meat and rich flavours like they were cooked all day. You can make it the night before and store in the refrigerator for the following night or eat immediately to feed the whole family a hearty meal, or even pop in the slow cooker.
Will you try making this recipe?
Ingredients
700 grams beef, cubed

1 onion, chopped

8 oz (230ml) mushrooms, chopped

1 Tbsp butter

1/2 tsp ground black pepper

1/2 tsp paprika

1 tsp sea salt

1 tsp dry Italian Seasoning

3 Tbsp all-purpose flour

2 1/2 cups (600ml) water

2 Tbsp tomato paste

1 Tbsp sour cream

1/2 cup (115ml) full cream

1/2 to 1 cup (115 to 230ml) milk
Method
Ad. Article continues below.
In a large skillet, brown the onion and mushrooms in butter or oil until onion is brown.
Add beef, salt, pepper, paprika, and dry seasoning to the onion mixture and continue to brown together.
Mix flour with 1/4 cup (60ml) of water until smooth. Add remaining water and then mix well.
Combine flour mixture and tomato paste to beef and simmer, stir often. The fluid should thickened in approximately 10 minutes.
Then add sour cream and cream to the skillet. Use your judgement and add enough milk to create desired consistency; start with half the suggested amount and as as needed.
Stir well and let simmer until all the flavours blend (approximately 10 minutes).
Serve with mashed potatoes or rice.
Tell us, what is your favourite beef stroganoff recipe?