Beef burgers with roast capsicum, basil salsa and smoky sauce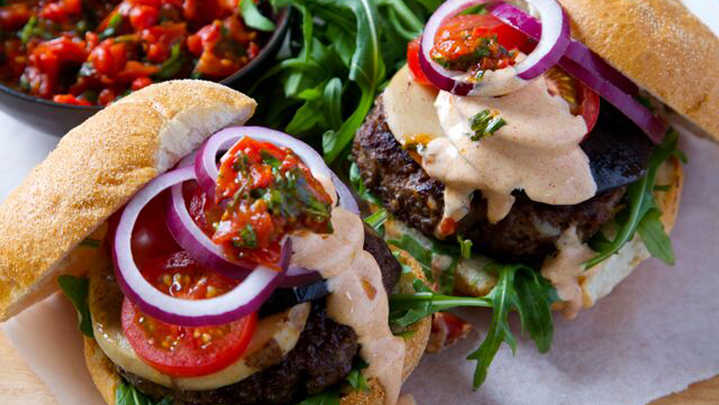 The roast capsicum basil salsa and the smoky sauce make this burger an absolute winner!
It's hard to turn down a quality homemade burger and this recipe for beef burgers is set to become a family favourite.
This recipe featured in the Classic bag of My Food Bag and is guaranteed to be a favourite with kids and adults all round (as thousands of people attested too!).
Sometimes I just like to eat my burgers without the bread bun, wrapped up in Cos lettuce leaves instead – which makes them a bit lighter (and gluten-free). Give these babies a go this weekend!
Ad. Article continues below.
Ingredients
Beef burgers
breadcrumbs – 1/3 cup (you can use GF breadcrumbs if you like)
milk – 2 tablespoons
beef mince – 500-600g
red onion – 1/2, grated or very finely chopped
egg x 1
salt – 1 teaspoon
freshly ground black pepper – ½ teaspoon
2 tablespoons finely chopped thyme or 3 tablespoons parsley
Roast capsicum basil salsa
roast red pepper (from a jar or the deli) – 1 large
canned crushed tomatoes – 1 cup
basil leaves – 1/3 cup chopped
chilli flakes
Ad. Article continues below.
To assemble and serve
Portobello mushrooms – 4-5 large, stalks trimmed
good-quality mayonnaise – 3-4 tablespoons
smoked paprika – 1/2 teaspoon
lemon juice – 1-2 tablespoons
burger buns x 4-5
baby rocket leaves – 4 small handfuls
tomatoes – 2 sliced
red onion – 1/2, sliced thinly into rings
Method
In a large mixing bowl, stir together breadcrumbs and milk, then add all remaining burger ingredients. Use your clean hands to mix and combine the ingredients together well. Shape into 4-5 patties (about 2cm thick) and set aside
on a plate in the fridge for 5-10 minutes to firm up a little.
Finely dice roast capsicum. Place crushed tomatoes in a sieve and use the back of a spoon to press down on them to squeeze out most of the excess liquid. Mix with diced roast capsicum, basil leaves and chilli flakes (if using) and season to taste with salt and pepper.
Heat a good drizzle of olive oil in a large fry pan or on a preheated BBQ hotplate on medium heat. Cook beef burgers and then whole Portobello mushrooms (while the beef burgers rest) for 3-4 minutes on each side, until beef burgers are well browned and cooked through, and mushrooms are soft. Use a fish slice to press down on the patties and mushrooms while they are cooking.
Mix mayonnaise, lemon juice and paprika together and season to taste with a little salt.
Cut burger buns in half and warm in the oven or in the pan or on BBQ. To serve, top each burger bun with some smoky mayo, rocket leaves, a burger patty, mushroom, and slices of tomato and onion. Top with salsa, a little more mayo and top burger bun.
Ad. Article continues below.
This great recipe was created by MasterChef NZ winner, NZ My Kitchen Rules judge, award winning cookbook author and co-founder of My Food Bag, Nadia Lim.
Recently reaching Australia's shores, Nadia is bringing with her a refreshing 'Nude Food' philosophy that is changing the way Australians approach healthy eating. With the consistent aim of helping people eat in a more nutritious, delicious way by getting back to basics and stripping away the distractions of food fads, diets and marketing hype, Nadia's down-to-earth, simple approach to healthy eating is accessible to everyone.
Her latest book Cook Healthily, Lose Weight  is due for release in September and can be pre-ordered here.