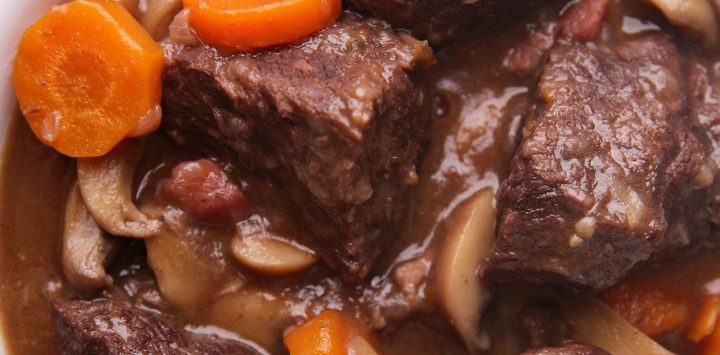 This traditional French dish has been around for years and like most deliciously hearty stews, it was considered peasant food for years. Like most 'peasant food' though, it's an absolute smash hit when it comes to flavour and costs hardly anything to make. The recipe calls for a cup of red wine, but don't bother wasting the good stuff here. An affordable and basic cooking wine will bring all the flavour you need and get the job done nicely. Serve a nice big bowl full with a couple of slices or buttered crusty bread to mop up that amazing gravy. Enjoy!
Ingredients
600g blade or topside steak, lean, trimmed of excess fat and cut into cubes
2 tablespoons olive oil
12 baby onions, peeled
300g button mushrooms, left whole or halved if large
2 tablespoons plain flour
2 tablespoons tomato paste
1 cup red wine
2 cups water
1 beef stock pot
3 carrots, peeled and sliced
2 tablespoons chopped parsley
Method
1.heat oil in a large heavy based pan and brown beef in batches and set aside. Lower heat and add onions and mushrooms and cook until golden brown. Stir in flour and tomato paste and cook gently for 1-2 minutes.
2. Return beef to pan and add red wine, hot water and stock pot and carrots. Cover and simmer gently for 1 hour, removing the lid for the last 20 minutes of cooking.
3. Garnish with parsley before serving with steamed vegetables and mashed potatoes.
Ad. Article continues below.
—————————————————–
If you'd like to see more recipes from Starts at 60, click here. And if you have a recipe you'd like to share with the Starts at 60 community – we'd love to share it! Submit them to us by completing the form below.
Submit your article here