Bananarama: 3 awesome banana recipes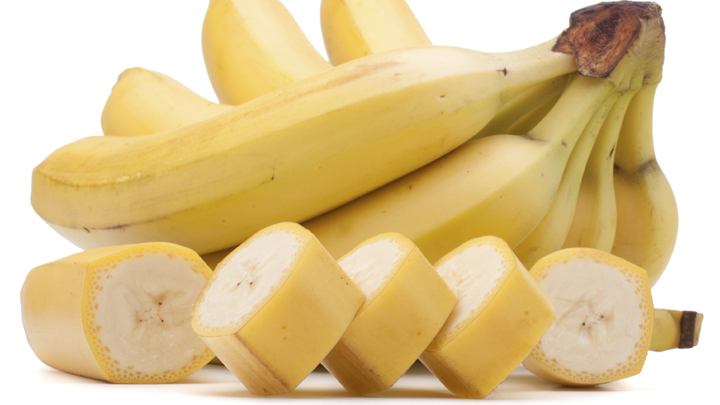 Bananas are as cheap as chips at the moment, and if you're anything like us here at Starts at Sixty, you've got them coming out of your ears. Here's a few recipes to try when you've taken advantage of the 'banana boom'.
Ginger spiced banana bread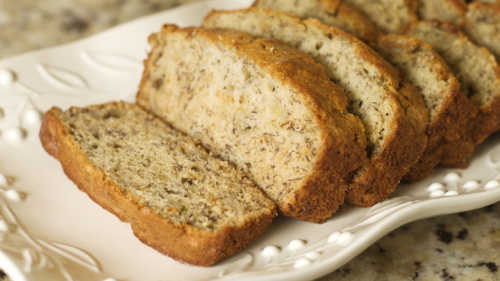 Prep: 20 minutes  –  Cooking: 60 minutes  –  Makes: 2 loaves
Ad. Article continues below.
Ingredients
6-7  very ripe bananas – mashed
1/2 cup Greek yogurt
1/2 cup low-fat milk
1 tbsp fresh ginger, finely minced
2 tsp pure vanilla extract
1/2 cup unsalted butter, softened
4 egg whites
2 cups sugar
4 cups all-purpose flour
2 tsp bicarbonate of soda
2 tsp ground cinnamon
1/2 tsp ground cloves
1/2 tsp ground nutmeg
1/2 tsp sea salt
1/4 tsp cardamom
Method
Preheat the oven to 180 degrees.
Prepare two loaf pans by greasing the bottom and sides of each pan with butter and then dust lightly with flour.
In a mixing bowl, use the back of a fork to mash together the bananas, Greek yogurt, milk and ginger, until well-mixed with small chunks of banana remaining.
Add the mixture to a mixer. On low speed, add the vanilla, butter, egg whites and sugar, and mix until well-combined.
Sift together the flour, baking soda, cinnamon, cloves, nutmeg, salt, and cardamom and then add to the mixer, half a cup at a time until just mixed. Be careful not to overbeat. Pour the batter into the prepared loaf pans.
Bake for 1 hour or until the tops are golden brown. A cake-tester should be able to be inserted into the middle of each loaf and come out clean.
After baking, let cool on a baking rack for 10-15 mins.
Once cooled, run a knife around the edge of the pans before gently flipping over to remove the loaves, then leave to cool completely on a baking rack.
Slice and serve.
Ad. Article continues below.
Microwave banana pudding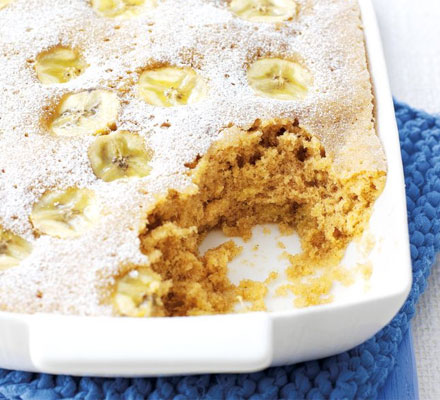 Prep: 20 minutes  –  Cooking: 20 minutes  –  Serves: 4-6 people
Ingredients
Ad. Article continues below.
100g butter, softened, plus extra for greasing
2 ripe bananas
100g light muscovado sugar
100g self-raising flour
2 tsp ground cinnamon
2 eggs
2 tbsp milk
Method
Place butter in a 1-litre baking dish and microwave on High for 30 secs to 1 min or until melted
Mash 1 ½ of the bananas into the melted butter with the back of a fork, then add the sugar, flour, cinnamon, eggs and milk. Mix together well.
Slice the remaining banana over the top, then return to the microwave and cook on High for 8 mins until cooked through and risen.
Serve warm, dusted with icing sugar, if you like, with a drizzle of toffee sauce and a scoop of ice cream.
Rum Bananas
Ad. Article continues below.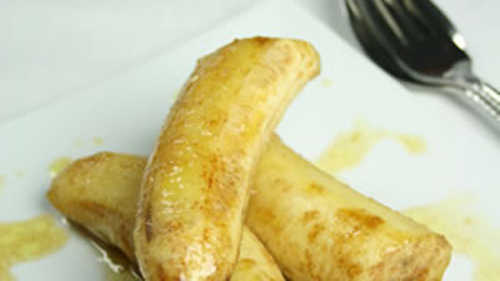 Prep: 10 minutes  –  Cooking: 10 minutes  –  Serves: 4 people
Ingredients
4 bananas, peeled
25g olive oil margarine, melted
1/3 cup brown sugar
1 tablespoon ground cinnamon
4 tablespoons rum (preferably O.P.)
Method
Ad. Article continues below.
Coat the bananas in cinnamon and brown sugar.
Heat margarine in frypan, then add bananas and sauté until lightly caramelised and tender.
Reducing the heat, bring the rum to boil in a small pan, then ignite and pour over bananas.
Spoon burning rum and margarine in pan over fruit until the flames die down.
What do you do with your left over bananas?