Banana and sweet potato pancakes with honey nut yoghurt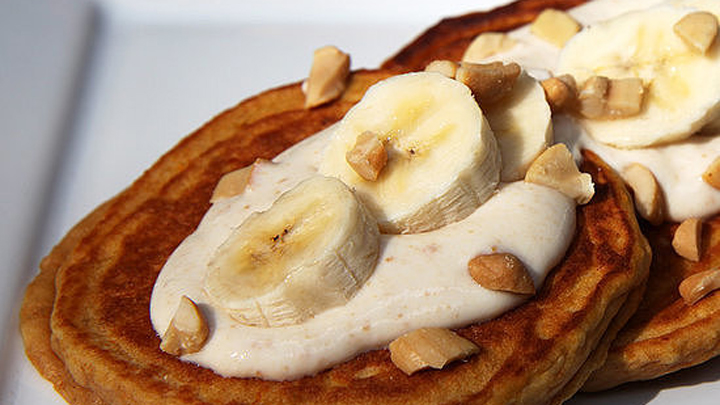 This is healthy twist on a lazy Sunday morning favourite. Team with a cup or tea or coffee and you could have yourself the perfect nourishing treat, to enjoy guilt free!
Ad. Article continues below.
Makes approximately 12 pancakes
Ingredients
Pancakes:
1 1/4 cups whole wheat flour
2 teaspoons baking powder
1/2 teaspoon salt
1 tablespoon brown sugar
1/2 cup mashed baked sweet potato
1 egg
1 1/4 cups skim milk or soy milk
1/2 teaspoon cinnamon
1 banana, diced
Yoghurt sauce:
1 170 gram container of plain non-fat Greek yoghurt
2 tablespoons skim milk
1 tablespoon peanut butter
2 teaspoons honey
Directions
Mix the baking powder, salt, flour and brown sugar together in a bowl.Following this, add the egg, sweet potato, milk and mix until the mixture is smooth. Stir in the diced banana and cinnamon.
Heat a pan to medium heat and spray with cooking spray.
Mix together the yoghurt, peanut butter, milk and honey while the pan is heating up, set aside.
Drop the pancake batter into the pan so that the pancakes are approximately 3 1/2 inches in diameter.
Cook the pancakes until they begin to bubble (approximately two minutes). Flip the pancakes and continue to cook until golden brown.
Place the desired quantity of pancakes onto a plate and pour the pre-made sauce on top.  Serve with slices of banana or other fresh fruit and some chopped nuts.