Baked sweet potatoes stuffed with feta, olives and sundried tomatoes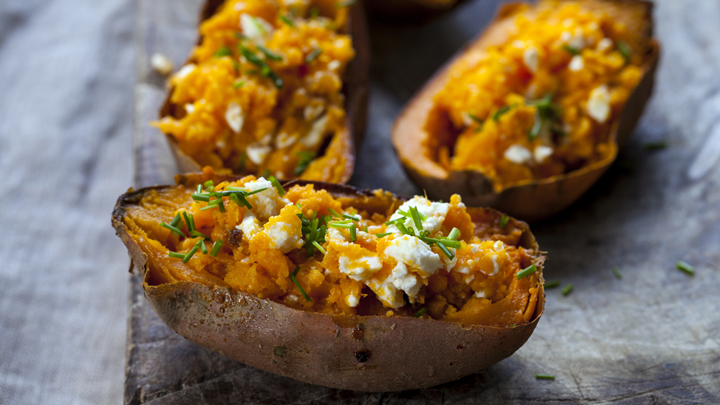 The sweet and savoury flavours of this Mediterranean dish make it an awesome choice for lunch or dinner.
Ad. Article continues below.
These orange-skinned veggies are also brimming with Vitamin C, potassium and beta-carotene, which are great for keeping you regular and nourishing your whole body.
Here's how to make the best little meal that's also good for you.
Ingredients
2 sweet potatoes, washed
50g feta cheese, cubed
30g black olives, pitted and chopped
30g sundried tomatoes in oil, sliced
1/4 cup chopped parsley
1/2 teaspoon dried oregano
1 tablespoon extra virgin olive oil
Salt and pepper to take
Method
Preheat the oven to 200 degrees. Pierce each sweet potato several times with a fork and place them directly on middle oven rack.
Bake until the sweet potatoes are easily pierced with a knife and cooked through – about 45-60 minutes depending on size. Remove from oven and let stand until cool enough to handle.
While the sweet potatoes are baking, make the topping. Mix together remaining ingredients in a small bowl and set aside until the sweet potatoes are done.
Slice sweet potatoes down the centre then top with feta mixture and serve.