Baked honey and cinnamon cheesecake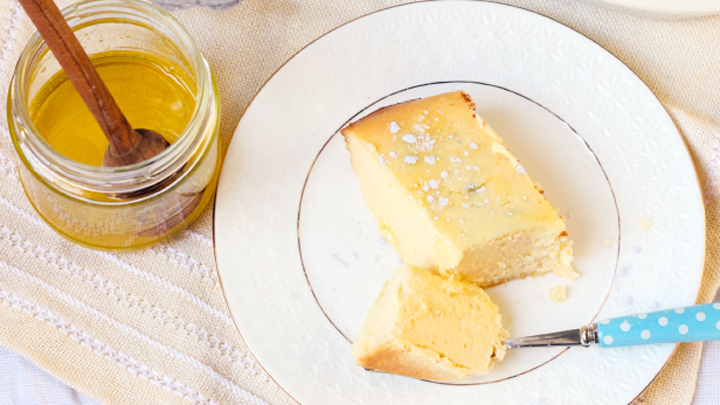 Simple and delicious, this baked honey and cinnamon cheesecake recipe is a must-make. It's a twist on a traditional cheesecake and combines the delicious flavours of honey and cinnamon.
It's also a great recipe to make the day before a dinner party to allow flavours to develop and it'll give you more time to prepare other dishes.
Ingredients
Serves 8
Ad. Article continues below.
1 1/2 cups (225g) plain flour
125g cold butter, chopped
1/4 cup (55g) caster sugar
1 egg yolk
2 tablespoons finely grated lemon rind
3 teaspoons iced water, approximately
Cheesecake filing
1 1/4 cups (250g) cottage cheese
250g packaged cream cheese
3/4 cup (180ml) honey
1/2 cup (110g) caster sugar
2 teaspoons ground cinnamon
4 large eggs
Method
Grease 22cm springform tin
Place flour in medium bowl; rub in butter. Add sugar, egg yolk, rind and enough water to make ingredients cling together. Knead gently on floured surface until smooth, wrap dough in plastic wrap; refrigerate for 30 minutes.
Roll dough between sheets of baking paper until large enough to line prepared tin. Life pastry into tin, ease into side, trim edge. Cover; refrigerate for 30 minutes.
Cover pastry with baking paper, fill with dried beans or rice, place on oven tray. Bake in moderately hot oven 10 minutes. Remove paper and beans; bake about 10 minutes or until pastry is browned lightly, cool.
Pour cheesecake filling into pastry case; bake in moderately slow oven about 1 1/2 hours or until filing is firm, cool. Cover; refrigerate cheesecake overnight. Just before serving, drizzle extra honey, if desired.
Ad. Article continues below.
Cheesecake filling
Beat cheeses, honey, sugar and cinnamon in medium bowl with electric mixer until almost smooth.
Add eggs, one at a time, beating well after each addition.
Tell us, will you try this recipe? Do you like cheesecake?