Baked garlic and parmesan potato wedges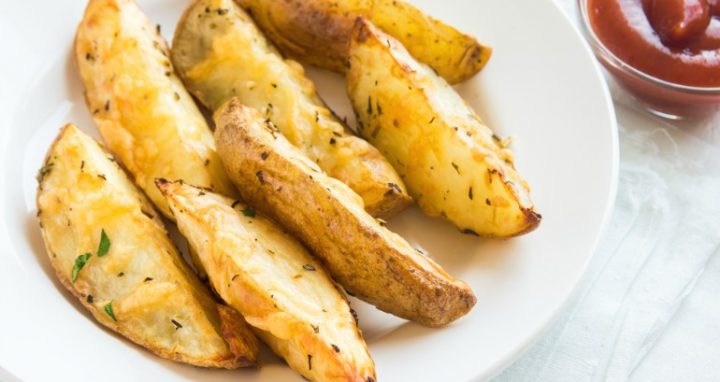 If you're looking for an ideal starter, snack, or side dish, these baked garlic and parmesan potato are not to go past.
Baked instead of fried, and cooked with olive oil, they are a far sight healthier than your average chips or wedges, and yet absolutely full of flavour and just as delicious as their less-healthy counterparts!
Serve them up with your favourite sauce, dips, or dressings (Ranch and Aioli are especially tasty!), and watch how quickly they go!
Ingredients
3-4 large potatoes, sliced into wedges
4 tablespoons olive oil
2 teaspoons salt
2 teaspoons garlic powder
2 teaspoons Italian herbs
½ cup shredded parmesan cheese
Ranch or blue cheese dressing for dipping, optional
Method
1. Preheat oven to 200C, and line a baking tray with nonstick baking paper.
2. Place potato wedges in a large mixing bowl, and drizzle with olive oil before tossing to coat. In another smaller bowl, whisk together salt, garlic powder, and Italian herbs. Sprinkle the potato wedges with the Parmesan cheese, tossing to coat, then follow with the seasoning mixture.
3. Place potato wedges on the prepared baking tray in a single layer with skin sides down.
4. Bake for 25-35 minutes or until potatoes are tender and golden. Serve with chosen dressing for dipping.