Australian Pumpkin Fruit Cake - A very old recipe off a tea box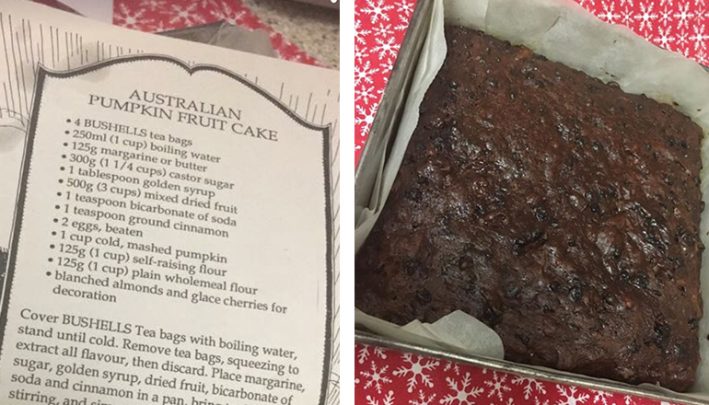 This beautiful looking fruitcake being baked by a friend, popped up on my wall this morning.  With her permission, I am sharing it with you.  It's an old recipe from a Bushell's Tea box and it looks amazing.  
4 Bushells Tea bags 
250ml (1 cup) boiling water
300g caster sugar (1 and 1/4 cups)
1 tablespoon golden syrup
Ad. Article continues below.
500g (3 cups) mixed dried fruit
1 teaspoon bicarb of soda
1 teaspoon ground cinnamon
2 eggs beaten
1 cup cold, mashed pumpkin
Ad. Article continues below.
125g (1 cup) self raising flour
125g (1 cup) wholemeal flour
Blanched almonds and glazed cherries for decoration
Cover Bushells tea bags with boiling water, stand until cold.  Remove tea bags, squeezing to extract all flavour, then discard.  Place margarine, sugar, golden syrup, dried fruit, bicarbonate of soda, and cinnamon into a pan, bring to the boil, stirring, and simmer 10 minutes, then cool.  Stir eggs and pumpkin into fruit mixture then gently stir in flours.  
Place mixture in a lined and greased 20cm round or square cake tin.  Decorate top with almonds and cherries.  Bake in a moderate oven at 180C for 30 minutes then reduce temperature to 120C for a further 1 hour.  Cool in tin.  
Ad. Article continues below.
Thanks to Bev Malzard for sharing this one with us today!  Here's the photo she sent in!