Asian honey garlic chicken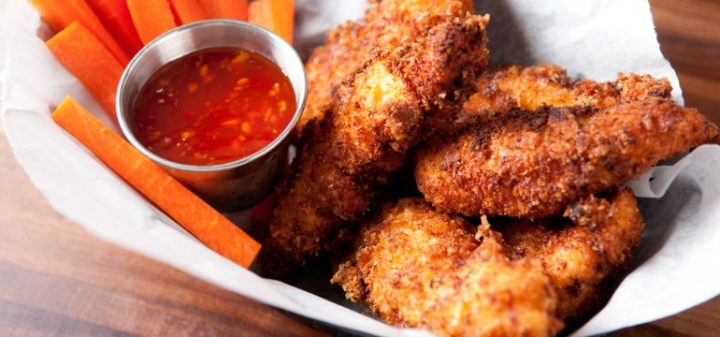 Yum! Forget about takeaway, this delicious honey garlic chicken is absolutely spot on in flavour and hits the spot every time. The honey and garlic sauce is amazing, while the chicken is succulent and moist on the inside and crunchy and golden on the outside.
Once you've got all your ingredients lined up it's super easy to throw together and never fails to impress. Try serving it with sweet chilli sauce for dipping and a little rice Asian greens or light salad.
Ingredients
6 tablespoons honey
3 tablespoons soy sauce
3 tablespoons brown sugar
3 teaspoons vinegar
2 teaspoons sesame oil
4 garlic cloves, minced
½ cup plain flour
1 teaspoons salt
1 teaspoons garlic powder
2 eggs
1 ½ cups panko bread crumbs
¼ vegetable oil
2 chicken breast halves, cut in half butterfly style or pounded to ¼ inch thick and cut in half widthwise
Method
1. In a small mixing bowl stir together honey, soy sauce, sugar, vinegar, sesame oil, and garlic. Set aside.
2. In a shallow bowl or pie plate, whisk together flour, salt and garlic powder. In a separate dish, beat eggs together. In a third dish, add panko crumbs. Dredge each chicken piece in flour mixture, then eggs and then panko crumbs, pressing crumbs slightly to adhere.
3. Heat vegetable oil in a large frying pan over medium high heat. Cook until chicken is golden browned on both sides and cooked through, 3-5 minutes per side. Remove from pan and set aside.
4. Using tongs and a wad of paper towels, wipe out the pan. Return pan to medium high heat and pour in honey garlic mixture. Simmer mixture, stirring frequently, until reduced and slightly thickened, 1-3 minutes and remove from heat. Add chicken back to the pan and turn to coat both sides of each piece with sauce. Serve immediately.
—————————————————–
If you'd like to see more recipes from Starts at 60, click here. And if you have a recipe you'd like to share with the Starts at 60 community – we'd love to share it! Submit them to us by completing the form below.
Submit your article here