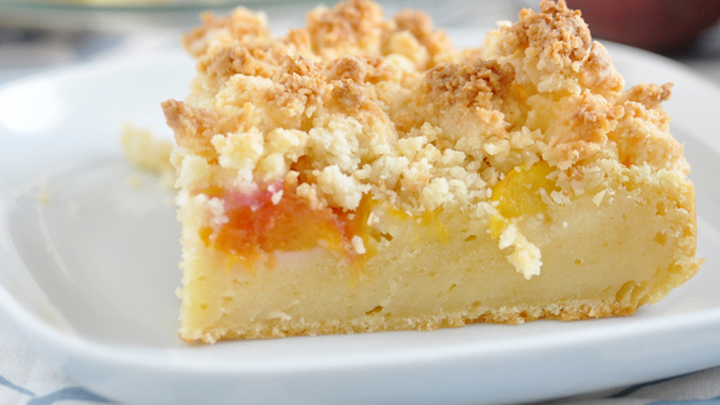 This crumble slice recipe combines the best of pies and cakes into one amazing dessert. The slice is easy to make and perfect to bring to a spring get together. It has a thick and buttery bottom layer smeared with a sweet apricot filing and buttery crumbly topping – what is not to love! If you dare, serve with a scoop of vanilla ice cream.
Ingredients
Makes 24 bars 
Crumble
3 cups all-purpose flour
1 cup granulated sugar
1 teaspoon baking powder
1/4 teaspoon salt
1/4 teaspoon ground cinnamon
1 cups unsalted butter, cold
1 large egg, lightly beaten
Ad. Article continues below.
Apricot Filling
4 cups tinned apricots
2 tablespoons lemon juice
½ cup all-purpose flour
1 cup granulated sugar
¼ teaspoon salt
½ teaspoon ground cinnamon
¼ teaspoon ground nutmeg
Method
Preheat oven to 190 degrees C. Butter the bottom and sides of a 33 x 23cm baking pan; put piece of parchment paper on the bottom hanging slightly on both ends (this will make it easier to remove.
For the crumble: in a large bowl mix flour, sugar, baking powder, salt and cinnamon. Then add the butter, toss with a fork to coat with the flour mixture. Add egg and mix together until the butter pieces are no larger than small peas. Pat half of dough into the prepared pan and place the remainder of the dough in the refrigerator while you prepare the filing.
For the apricot filling: in medium bowl, gently toss apricots and lemon juice together; set aside. In a different small bowl, whisk the flour, sugar, salt, cinnamon and nutmeg together. Pour over the apricots and mix gently.
Spread the apricot mixture evenly over the crust and crumb the remaining dough over this apricot layer.
Bake for 45 minutes, or until slightly brown. Then cool completely on wire rack; transfer to refrigerator to chill before cutting it into squares.
Tell us, will you try this recipe? Have you ever made a crumble bar before?