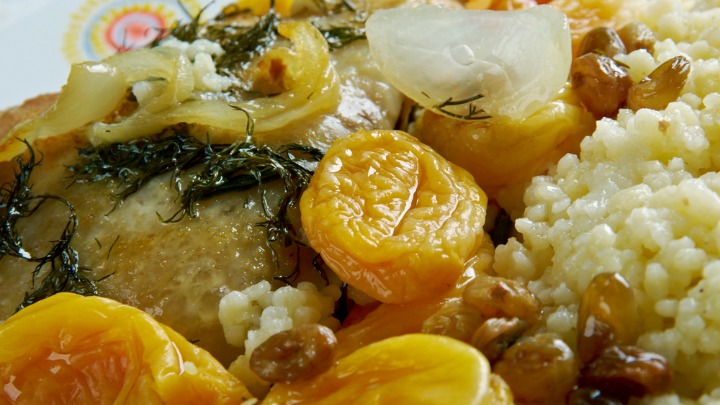 Tagine meals are so great because, like a slow cooker meal, they're easy, delicious and a total winner every time. This recipe takes the classic combination of apricot and chicken and gives it a Middle Eastern twist cinnamon, honey, parsley and ginger. A sprinkling of almonds add just the right amount of crunch, while the herbs bring a light freshness. Serve with fluffy couscous or rice and a dollop of natural yoghurt.
Ingredients
1 teaspoon cinnamon
1 teaspoon ground ginger
½ teaspoon turmeric
½ teaspoon ground black pepper
1 teaspoon salt
4 tablespoons olive oil, divided
1kg boneless, chicken thighs (7-8 thighs)
1 medium red onion, cut into ½ inch wedges
4 cloves garlic, diced
1 small handful coriander
1 small handful parsley
8 inch kitchen string or small piece of cheese cloth
1.5 cups water
2 tablespoons honey
1 cinnamon stick
½ cup dried apricots
1/4 saltanas (optional)
⅓ cup whole blanched or slivered almonds
Method
1. Mix spices and 2 tablespoons olive oil together in a large bowl. Add chicken and toss with your hands to thoroughly coat chicken in spice mixture. In a tagine or a frying pan, add 1 tablespoon olive oil and brown chicken thighs skin-side down. Flip when golden brown, about 5-6 minutes on each side. Remove the chicken and allow to rest on a plate.
Ad. Article continues below.
2. Heat 1 tablespoon of olive oil in the tagine over medium to medium low heat and saute the onions for about 15 minutes until soft, stirring frequently. Add garlic and saute another 3 minutes or so.
3. Tie 5 sprigs of both parsley and coriander up in a bundle with kitchen string. Or alternatively, tie the herbs up with a bit of cheesecloth. Put the chicken into the tagine, skin side up along with and any juices that have collected in the plate. Add ½ cup of water and herbs to the pot. Increase heat to medium until broth begins to simmer, turn down to low, cover tagine and simmer for 30 minutes.
4. While chicken is cooking, put honey, cinnamon stick and 1 cup of water in a saucepan and bring to a boil. Reduce to a simmer and cook gently until apricots are soft and the liquid has reduced to a thick sauce. Remove cinnamon stick.
5. Open the tagine, stir the chicken to prevent burning and add the apricots and sauce to the chicken and continue to cook for another 10 to 15 minutes on low heat. When tagine is done the chicken should be fork-tender and the apricots, onions and juices should form a nice sauce.
6. Remove the tagine from the stove, chop the remaining parsley and cilantro and sprinkle the chicken with the herbs and toasted almonds. Put the tagine on a trivet in the middle of the table and serve with couscous, quinoa, rice or a crusty bread.
Ad. Article continues below.
—————————————————–
If you'd like to see more recipes from Starts at 60, click here. And if you have a recipe you'd like to share with the Starts at 60 community – we'd love to share it! Submit them to us by completing the form below.
Submit your article here