Apricot and honey souffle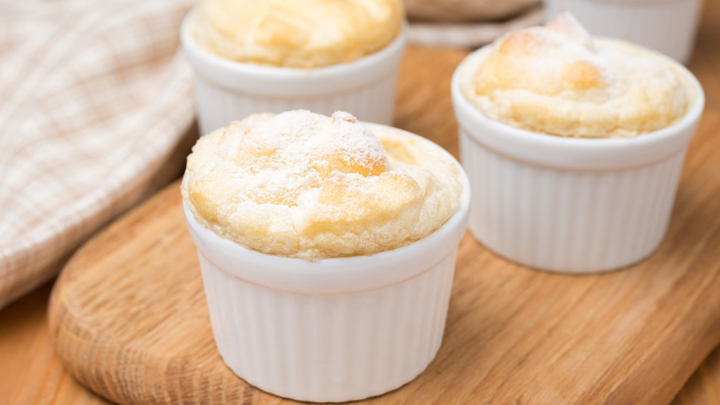 This fluffy souffle recipe is the perfect amount of sweet. Check out this brilliant apricot and honey recipe. It's easier to make than you might think. You are in for a real treat!
Ingredients
Makes 6 servings
1/4 cup (55g) caster sugar (superfine)
4 fresh medium apricots (200g)
1/4 cup (60ml) water
2 tbsps honey
4 egg whites
1 tbsp icing sugar
Ad. Article continues below.
Method
Prep and cook time: 15 minutes 
Preheat oven to 180C and grease six 180ml souffle dishes. Sprinkle inside of dishes with caster sugar and place dishes on oven tray.
Place apricots in small heatproof bowl, cover with bowling water and stand 2 minutes. Drain; cool for 5 minutes. Peel and seed apricots; chop flesh finely.
Place in small saucepan with remaining caster sugar, water and honey; bring to a boil. Reduce heat, simmer uncovered for about 10 minutes or until apricots are softened to a jam-like consistency.
Then beat egg whites into a small bowl with an electric mixer until soft peaks form. Gradually add hot apricot mixture, beating until just combined. Spoon mixture into dishes.
Bake souffles for 15 minutes, dust with icing sugar and serve immediately.
Tell us, have you ever tried to make a souffle? Did it turn out okay?