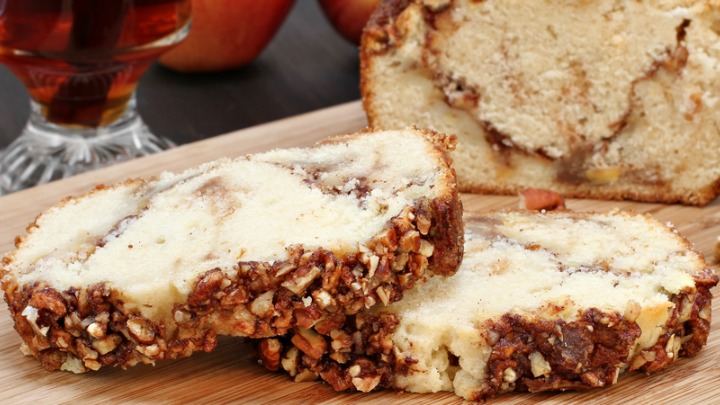 This delicious cake is such a treat and the perfect cake to enjoy as the weather turns from cool and cozy to warm and sunny. The cinnamon and vanilla bring a lovely warmth and comforting flavour, while the cake itself is soft, light and fluffy. You can top it with pecans, like here, or use whatever nuts your prefer — walnuts and almonds work well.
If you really want to treat yourself, enjoy it warm out of the oven spread with butter that just melts straight into the cake. Yum!
Ingredients
1/3 cup brown sugar
1 teaspoon ground cinnamon
2/3 cup white sugar
1/2 cup butter, softened
2 eggs
1 1/2 teaspoons vanilla extract
1 1/2 cups all-purpose flour
1 3/4 teaspoons baking powder
1/2 cup milk
1 apple, peeled and chopped
1/2 cup pecans, chopped
Method
Ad. Article continues below.
1. Preheat oven to 175C. Grease and flour a 9×5-inch loaf pan.
2. Mix brown sugar and cinnamon together in a bowl. Beat white sugar and butter together in a bowl using an electric mixer until smooth and creamy. Beat in eggs, one at a time, until incorporated; add vanilla extract.
3. Combine flour and baking powder together in a bowl; stir into creamed butter mixture. Mix milk into batter until smooth. Pour half the batter into the prepared loaf pan; add half the apples and half the brown sugar mixture. Lightly pat apple mixture into batter.
4. Pour the remaining batter over apple layer; top with remaining apples, chopped pecans and brown sugar mixture. Lightly pat apples into batter; swirl brown sugar mixture through apples using a finger or spoon. Bake in the preheated oven until a toothpick inserted in the centre of the loaf comes out clean, 30 to 40 minutes.
—————————————————–
If you'd like to see more recipes from Starts at 60, click here. And if you have a recipe you'd like to share with the Starts at 60 community – we'd love to share it! Submit them to us by completing the form below.
Submit your article here