Apple and cinnamon pancakes
Whether you're splurging on a Sunday brunch or decide to make a middle-of-the-week morning meal, a decision has to be made: sugar or salt? Some go for a stack of pancakes and others stick to eggs. We're going to take a look at a way to change up your traditional pancake recipe to satisfy your (morning) sweet craving. This apple and cinnamon pancake recipe is an absolute must-try for your next breakfast treat. It may even sway the typical salty breakfast lovers since it is super easy to prepare and totally divine.
Take a look at the delicious recipe below!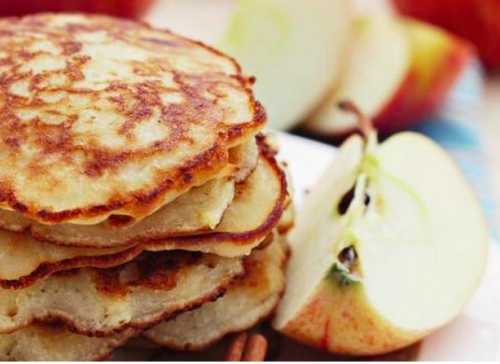 Ingredients: Serves 10
1 cup plain flour
1 apple, peeled cored and grated
1 tbsp brown sugar
3/4 tsp cinnamon
1 tsp baking powder
1/2 tsp salt
1 egg
1 cup milk
1 tsp melted butter
Ad. Article continues below.
Method: Prep: 15 minutes and Cook: 15 minutes
Sift the flour, baking powder and salt into a bowl.
Make a well in the centre and add the egg, milk, brown sugar, cinnamon and melted butter.
Using a wooden spoon, gradually draw in the flour. Beat well, cover and stand in the fridge for one hour.
Add the grated apple to the mixture and mix well just before cooking.
Pour batter into a jug or container, grease the frypan well with the canola oil spray and heat it up.
Cook until bubbles start to appear on top, flip the pancake and cook for a further minute.
Serve with lemon and sugar, syrup, or bacon and maple syrup!
When it comes to breakfast, do you prefer sweet or savory? What is your favourite type of pancake? Share with us below!