Amazing potato, bacon and spinach frittata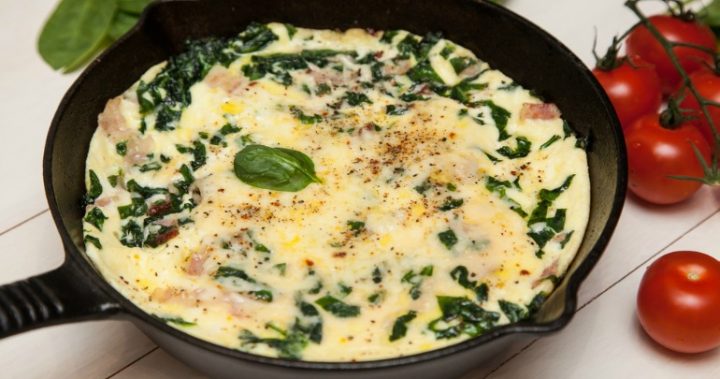 What makes a better dinner than a tried-and-tested frittata?
They're a great way to use up leftover fresh produce, and are delicious and really good for you!
This one is extra tasty, with the potatoes bulking it up just that little bit more for a filling meal in one pan.
Serve alone, or with a fresh salad.
Ingredients
350g small potatoes, peeled and quartered
6 bacon rashers, chopped
2 cups fresh baby spinach
1/2 cup onion, chopped
8 eggs, lightly beaten
Method
1. Place potatoes in a medium saucepan, and cover with salted water. Bring to a boil and cook for 10 minutes or until just tender.
2. Preheat the grill setting in your oven. In a large saucepan on medium-high heat, cook bacon until crispy. Add spinach and onion, and cook until onion is tender. Stir in the cooked potatoes.
3. Whisk eggs together with a quarter teaspoon of black pepper and a quarter teaspoon of salt, and pour over potato mixture in the frying pan. Cook on low-medium heat, running a spatula around the edge of the pan as it cooks so uncooked egg mixture runs underneath. Continue until egg is almost set.
4. Place frying pan under grill and grill for 2-3 minutes, or until top is set. Stand for 5 minutes, then cut into wedges to serve.