Amazing homemade sausage rolls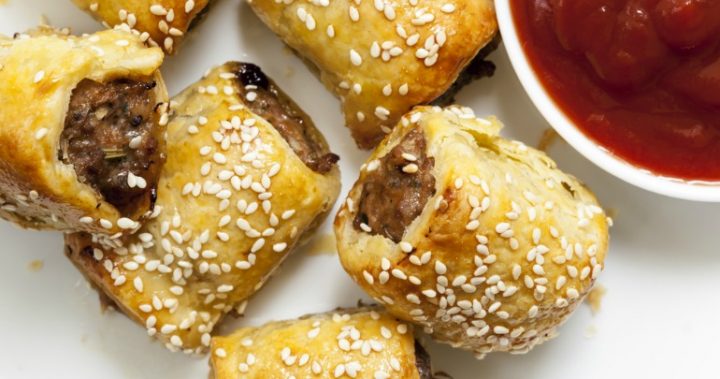 Sausage rolls are such a great Aussie summer snack that you can do so much with. This version is super tasty and just a little bit fancy thanks to an amazing pork, fennel and bacon filling.
Little extras, like celery and panko breadcrumbs, add even more flavour and make every bite better than the last!
The pastry is brushed with an egg wash and sprinkled with sesame seeds for the perfect crunchy, golden finish. Serve them up with a squeeze of tomato sauce or a dollop of relish to really lift it up a notch. Delish!
Ingredients
Filling
Ad. Article continues below.
½ tablespoon olive oil
2 cloves garlic, minced
1 brown onion, finely chopped
1 stalk celery, finely chopped
150g bacon, finely chopped
2 teaspoon whole fennel seeds, toasted
500g pork mince
¾ cup panko breadcrumbs
1 egg
½ teaspoon salt
Black pepper
Pastry
2½ sheets puff pastry, thawed then each cut into half
1 egg, lightly whisk
1 tablespoon sesame seeds
Method
1. Heat oil in a non-stick fry pan over medium-high heat. Sauté garlic, onion and celery for 2 minutes, then add bacon. Cook for a further 2 minutes then transfer to bowl and allow to cool slightly. Add remaining Filling ingredients into the bowl. Use your hands to mix well.
Ad. Article continues below.
2. Lay out a rectangle of pastry, long edge closest to you. Brush egg along one long edge. Get ⅕ the of the filling and shape into a long log shape down the middle of the pastry. Ensure the meat is tight and compact, without gaps. Roll up, sealing on the edge with egg wash on it.
3. Preheat oven to 180C. Cut each log into four equal lengths, or just two if you want full size sausage rolls. Brush with egg, then sprinkle over sesame seeds. Place on 2 baking trays lined with baking paper. Bake for 25-30 minutes, swapping trays halfway, until the pastry is golden brown. Cool on trays. Serve warm or at room temperature with tomato sauce or relish.
—————————————————–
If you'd like to see more recipes from Starts at 60, click here. And if you have a recipe you'd like to share with the Starts at 60 community – we'd love to share it! Submit them to us by completing the form below.
Submit your article here