Amazing homemade chickpea curry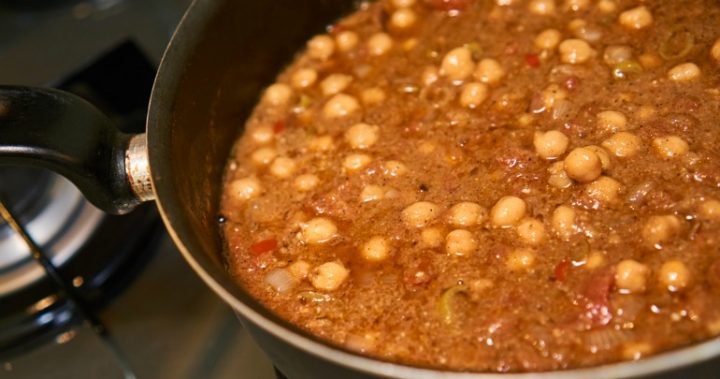 We often think of curries as heavy meat-filled dishes, so this vegetarian version is a refreshing change! The spices bring the most amazing flavour here, with the protein-packed chickpeas leaving you feeling full and satisfied. The spice level in this dish is mild, but you can up the ante with a little chilli powder if you prefer more kick to your curry. The whole dish only takes about 20 minutes to whip up, but the flavours and aromas are as if it's been cooking for hours. It's lovely on it's own with a little steamed rice and yoghurt, or you can roast off some eggplant to serve on the side.
Ingredients
2 tomatoes, diced
1 onion, diced
2cm piece fresh ginger, peeled and roughly diced
1 tablespoon rice flour
1 tablespoon olive oil
1 teaspoon cumin seeds
2 x (400g) tins chickpeas, rinsed and drained
1 teaspoon curry powder
1 teaspoon salt
1 teaspoon chopped fresh coriander, to serve
Natural or Greek yoghurt, to serve
Method
1. Combine the tomatoes, about half the onion, the ginger and rice flour in a blender; blend into a paste.
Ad. Article continues below.
3. Heat the oil and cumin seeds in a large frypan over medium-high heat until the cumin swells and turns golden brown. Cook the remaining onion in the hot oil for about 3 minutes.
3. Stir the blended tomato mixture, chickpeas, curry powder and salt into the onions; cover and cook until hot, about 5 minutes. Garnish with the coriander to serve.