Almond and white chocolate cookies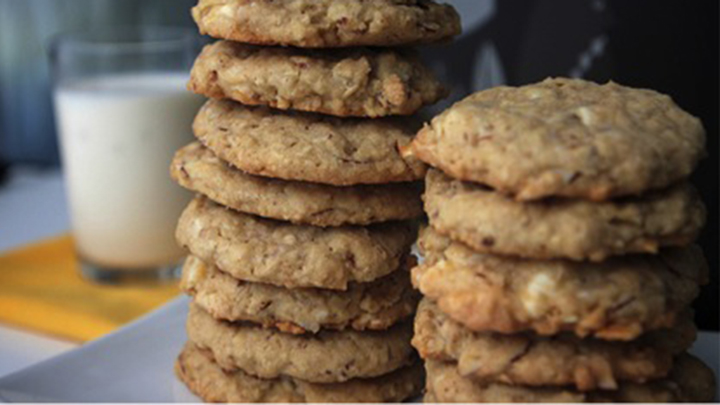 If you're a chocolate lover and a nutty fan, this recipe might hit the spot for you! With the perfect combination of white chocolate and almonds, this recipe is ever so crunchy and leaves you wanting more.
Almond and white chocolate cookies
Makes approximately 4 dozen cookies
Prep Time: 15 mins
Ad. Article continues below.
Cook Time: 13 mins
Ingredients
1 cup (2 sticks) butter, at room temperature
1 cup granulated sugar
1/2 cup brown sugar, firmly packed
2 eggs
1 tsp. vanilla extract
2 1/2 cups quick (1-minute) oats
2 cups flour
1 tsp. baking powder
1 tsp. baking soda
1/2 tsp. salt
2 cups white chocolate chips (I used chunks)
1 1/2 cup whole, natural almonds (I used slivered)
 Method
Preheat the oven to 190°C with the rack in the top position.
Cream the butter and sugars together.  Add the eggs and vanilla and mix until smooth.
Fit a food processor with the steel knife blade and process the oats.  Add to the batter along with the flour, baking powder, soda, and salt.  Mix until combined.  Stir in the white chocolate chips.
Reassemble the food processor without washing.  Add the almonds and pulse until roughly chopped.  Mix the almonds into the dough.
Drop mounded tablespoons of dough on the a cookie sheet spacing them 1 inch apart.  Flatten each cookie slightly with the palm of your hand.
Bake the cookies 4 minutes, rotate the pan, and continue baking  3-5 minutes, until they show the barest amount of brown around the edges.  The centers should be soft but not gooey.  Cool completely, then store in an airtight container.
Source: McCormick.com
Is this your next favourite cookie recipe? Did it hit the spot for you? What are other biscuit/cookie recipes that you love? Tell us more below!