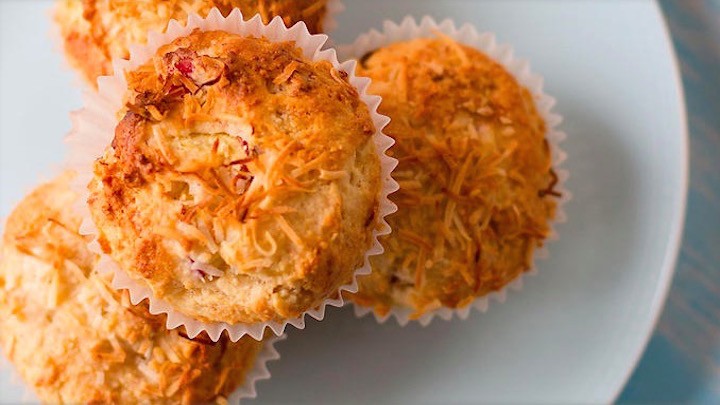 Kick-start your fruit serving for the day with this great little breakfast muffin recipe. They have a natural underlying sweetness from the almond meal and banana but are not too sugary to start your day with. You can also try to change up the fruits to either pears or strawberries if you're not a big fan of banana or peach.
Prep: 10 minutes – Cook: 25 minutes – Serves: 8 muffins
Ingredients
1 1/8 cup (blanched) almond meal
1/3 cup gluten-free self-raising flour
1 fresh peach, diced
1/3 cup mashed banana
1 tbsp rice malt syrup
1/2 tbsp apple cider vinegar
Ad. Article continues below.
Method
Preheat oven to 200 degrees (180 degrees fan-forced) and grease muffin pan with a little coconut oil
In a large bowl mix together almond meal, flour and diced peach until peach pieces are coated with the mixture.
In another bowl mix wet ingredients with 1/2 cup water until well combined.
Pour wet ingredients into the dry ingredients and fold through, but just until the ingredients are incorporated. Do not over-mix or muffins will lose their fluffiness.
Spoon batter into prepared muffin pan.
Bake in the oven for about 25 minutes, or until tops start to turn golden. Remove from oven and cool on a wire rack.
What is your favourite type of muffin? Will you try this muffin recipe? Share with us below!