Almond and fruit truffles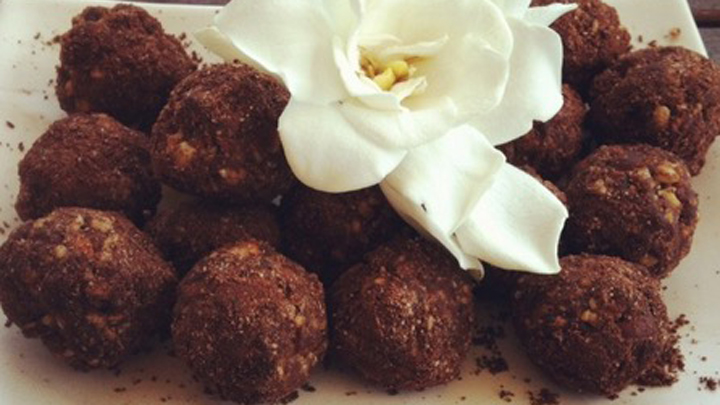 In my ongoing quest for healthy snack and treats, I made these truffles by the Gawler Foundation. They are super simple, with only a few ingredients, and despite being dairy-free, gluten-free, sugar-free and egg-free, aren't entirely without fun. In fact, they're rather yummy.
I'll definitely be making these again as they are fun to make and tick all the boxes I want in a sweet treat.
almond & fruit truffles
Makes 24 gluten-free / food processor
1¾ cups Whole Raw Almonds with skin on
2 cups Dates, pitted and roughly chopped
(or any combination of: Sultanas, Currants,
Prunes, Dried Apricots, Dried Figs in place
of 2 cups of dates)
2 tsp Pure Vanilla Essence
¼ cup Cocoa (optional)
Ad. Article continues below.
> Place all the almonds into a food processor and roughly chop.
> Remove 1½ cups of the roughly chopped almonds and set aside. Continue to process the remaining almonds until they are a fine meal.
> Remove the almond meal from food processor and add cocoa. Set aside for rolling stage to coat the balls.
> Chop dates by hand into quarters making sure all the pips are removed.
> Return the 1½ cups of chopped almonds and the chopped dates into the food processor. Add vanilla essence and process until mixture is well combined.
> Take a heaped teaspoon of mixture, form the paste into a ball and roll to coat in the reserved almond meal
and cocoa mixture. Repeat this until you have used all the mixture.
Ad. Article continues below.
> Almond and fruit truffles should be kept small as this mixture is very rich.
Almond and fruit truffles can be stored for up to three days in the refrigerator. Ideal for school lunches or at suppertime.
Delicious alternatives: Replace the 2 cups of dates with any combination of sultanas, currants, prunes, dried apricots or dried figs to create delicious truffles of your own! Add lemon zest for a delightful alternative.
The Gawler Foundation has recently released a cookbook based on their whole-foods, plant-based diet philosophy. It's a stunning book, with detailed, practical information on everything from cooking methods to pantry essentials. If you're looking to revolutionise the way you eat, start with Eat Well Be Well, available from the Gawler Foundation website.