A healthy and delicious carrot cake for all seasons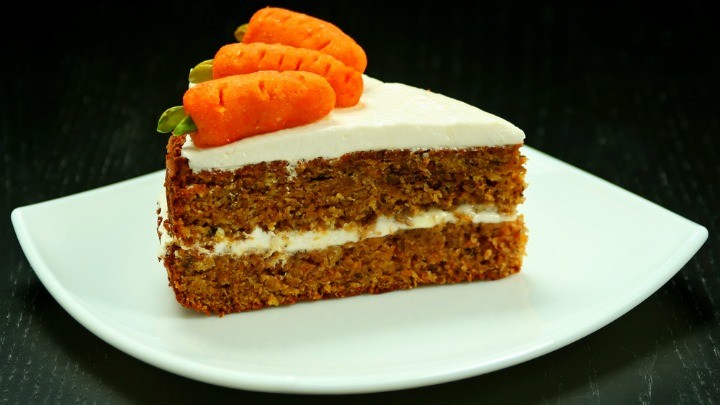 Carrot cake is an old favourite and although the traditional recipes are full of healthy carrots, they are often filled with sugar, negating the carrots' nutrients. This carrot cake recipe has no sugar, no gluten and no natural sweetener. Instead, it's packed with amazing ingredients to get you feeling your best!
If you LOVE this recipe then you might like The Merrymaker Sisters' cookbook: Make It Merry, A Healthy Cookbook. It's full of over 70 nutritious, quick and easy recipes to boost your health and happiness!
Prep Time: 15 min – Cook Time: 35 min – Total Time: 50 min
Serves 6
Stuff you need
For the cake
1 cup almond meal
3/4 cup walnuts, chopped
3/4 cup butter melted
1/4 cup coconut milk
2 carrots peeled and grated
2 eggs
1 tsp. cinnamon
1 tsp. nutmeg
Pinch of salt
For the frosting
1 1/2 cups unsweetened shredded coconut
1/2 cup butter cubed
1 lemon juice and rind
1 tsp. 100% vanilla extract
Now what
Preheat oven to 160°C (320°F) and line 2 x 10 cm (4 inch) springform cake tins. Or you can use 1 larger cake tin.
In a large bowl combine the almond meal, walnuts, cinnamon, nutmeg, and salt.
Add the eggs, melted butter, coconut milk, carrots and stir really well.
Fill the cake tins with the cake batter and place into the oven for 35 minutes.
Allow to sit for 10 minutes before turning out and allowing to cool completely on a wire rack.
Meanwhile, let's make the frosting!
In your blender or food processor whiz the coconut until super fine.
Add the butter cubes and continue to whiz, it should be getting smooth.
Add the lemon juice, rind as well as the vanilla and continue to whiz.
Once the cakes have cooled, spread frosting on top of both cakes evenly, then carefully place one cake on top of the other.
Sprinkle with a few extra walnuts!
Merrymaker tip
If your taste buds like it a little sweet, add 1-3 tbs. of 100% maple syrup or honey to the cake batter and/or frosting.