A green smoothie recipe for Autumn greens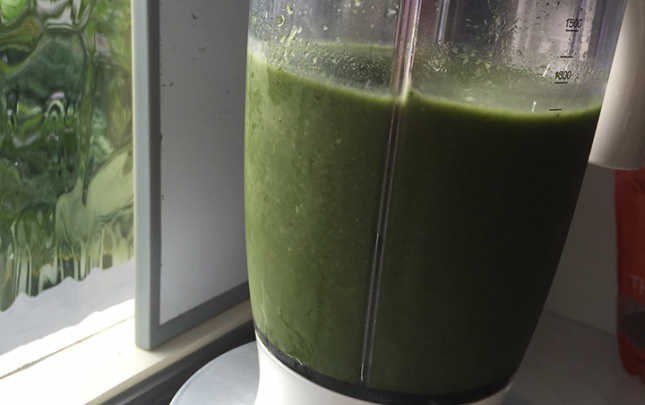 I've been drinking green smoothies every morning now since I returned from my Christmas holidays in America. Too many french fries combined with too much fun to say to my body "no more – I need some clean eating" and what a few months it has been!
A few months ago I wrote about my new green smoothie ways, and today, I'm checking back. My recipe is changing with the fruits and vegetables in season, and I wondered if yours was too.
I used to make my green smoothie with mangoes, but with the changing seasons bringing an end to mangoes, it has become time to move onto nectarines and pears, so with it I have had to shift my green smoothie recipe.
The core ingredients: 
Ad. Article continues below.
1 pear (green and ripe)
1 white nectarine (skin is OK)
1/2 cucumber
1 lemon
chunk of ginger
Ad. Article continues below.
handful of mint leaves
handful of spinach leaves
handful of kale leaves
1 cup of coconut water
1 tablespoon greens powder (any brand)
Ad. Article continues below.
2 teaspoons chia seeds
Optional ingredients: 
Switch the lemon for lime
1 passionfruit
Ad. Article continues below.
2 kiwi fruit instead of nectarine
Handful of green grapes
This recipe serves two people in the morning in our house, and we love it!  And it is important to note that I make the effort to go to the markets to get my ingredients. It is so much cheaper than buying all this rather expensive fruit in the supermarket.
Share your green smoothie recipe with us for inspiration now the seasons are changing. Tell us how long you've been green-smoothie making and what you love about it.