A classic Aussie pavlova with a twist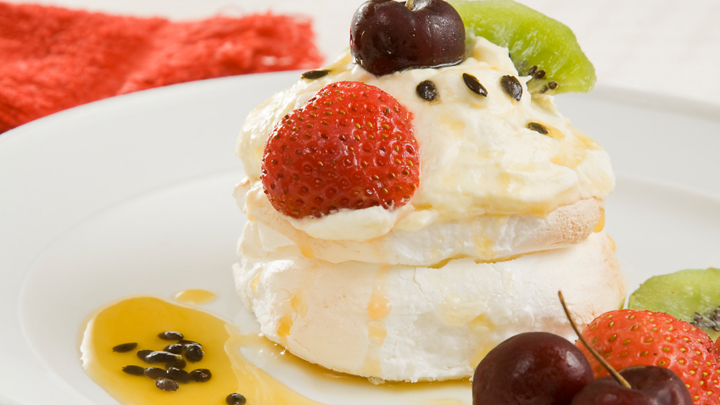 Love pavlova but don't want to make a whole cake?
Ad. Article continues below.
These little pavlova nests are the perfect treat – they're easy to make and a beautiful Australian dessert.
Ingredients
4 egg whites, at room temperature
1 cup caster sugar
1 teaspoon white vinegar
1 teaspoon vanilla extract
300 ml cream, whipped
1 punnet strawberries, hulled and
sliced, or 4 kiwi fruit, peeled and
sliced, or pulp of 5 passionfruits
Method
Preheat the oven to 130°C. Line two baking trays with baking paper. Trace 8 circles 11 cm in diameter onto the baking paper.
Beat the egg whites with an electric mixer until soft peaks are formed. Add the sugar, 1 tablespoon at a time, beating constantly, until thick and glossy.
Lastly, fold in the vinegar and vanilla. Spoon or pipe the meringue onto the circles on the prepared trays. Using a spoon, make an indent in the top of each meringue. Bake for 30 minutes. Turn the oven off and leave the meringues in the oven until completely cooled. Store in airtight containers until ready to use.
When ready to serve, place a dollop of cream into the centre of each meringue and top with fruit.
Do you love Pavlovas? What fruit toppings do you love most?