5 of the best homemade pizza recipes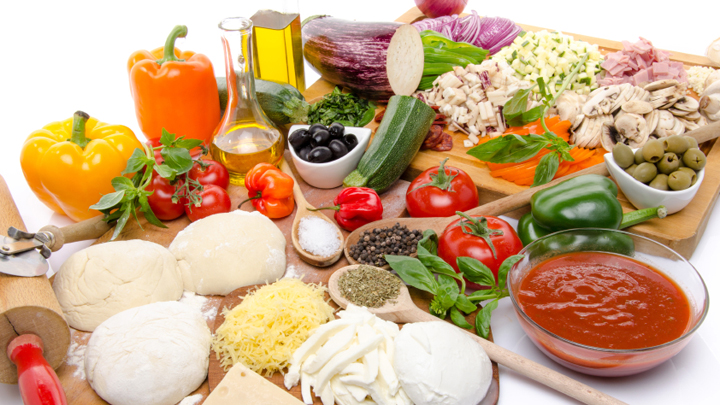 We're sure you've all had your fair share of caprese, napoletana, margherita and the other classic types of pizzas. And while there is nothing wrong with a classic, have you ever felt like you're stuck in a rut making the same old pizzas? Sometimes it can be fun to change it up and try out a new topping.
The options are limitless so we've found five of the best gourmet pizza recipes for you to try. They're all simple, quick and seriously tasty. You'll be tempted to have pizza for every meal after seeing these options.
1. Roast pumpkin and chorizo pizza
Quick and tasty. This is a perfect recipe for winter.
Ad. Article continues below.
Ingredients
 800g butternut pumpkin, peeled and cut into 1cm pieces
1 tablespoon extra virgin olive oil
4 wholemeal pita breads
160g can tomato paste
200g (2 cups) grated mozzarella
2 chorizo, sliced
1 chilli, thinly sliced (optional)
2 spring onions (shallots), thinly sliced
80g rocket salad mix
Steps
Preheat oven to 200 degrees C, and place pumpkin on baking tray. Drizzle with oil and season. Roast for 15 minutes.
Place pita bread on 2 baking trays and spread tomato paste.
Top with mozzarella, chorizo, pumpkin, chilli, and onion. Bake for 10 minutes or until crisp. Top with salad!
Ad. Article continues below.
2. Grape and two-cheese pizza
It may sounds a bit unexpected but pairing cheese with sweet grapes makes this a stand-out winner.
Ingredients
2 x pane toscano traditional pizza bases
1 1/2 tablespoons olive oil
Pinch of sea salt
330g (2 cups) menindee green seedless grapes, halved
3 teaspoons chopped fresh rosemary
60g blue cheese (or if that is too strong try brie cheese instead)
180g fresh bocconcini
2 tablespoons pine nuts
Steps
Ad. Article continues below.
Preheat oven to 230 degrees C, place pizza bases on tray. Brush with 1 teaspoon oil and sprinkle with salt.
Mix grape, rosemary and remaining oil in bowl; evenly place on base.
Crumble cheese onto and top with pin nuts.
Bake for 5-8 minutes or until cheese melts and bases are crisp!
3. Egg florentine pizza
Looking for a little taste of brekky for dinner. This recipe will definitely satisfy your craving.
Ingredients
Ad. Article continues below.
7 bacon rashers
150g baby spinach leaves
2 medium pizza bases
125ml (1/2 cup) tomato pizza sauce
80g (1 cup) grated pizza cheese (your choice!)
2 large eggs
100g grape tomatoes
Steps
Preheat oven to 220 degrees C. Then heat a large frying pan over high heat. Add bacon and cook for 5 minutes or until bacon is crisp. Transfer the bacon to a paper-towel lined plate.
Add spinach to pan and cook for 2-3 minutes or until wilted; season with salt and pepper.
Put pizza bases on baking sheet and spread sauce evenly. Sprinkle with half the cheese and top with spinach and bacon to your liking.
Crack an egg in the middle of each pizza. Then add remaining cheese and top with tomatoes.
Bake for 8-10 minutes or until cheese is melted and the egg is cooked as desired.
4. Tandoori chicken pizza
Ad. Article continues below.
Ingredients
2 tablespoons tandoori paste
1 tablespoon lemon juice
1/2 cup plain yoghurt
2 poached chicken breast fillets, thinly sliced
30cm pizza base
2 tablespoons mango chutney
1 red onion, sliced
40g baby spinach
2 tablespoons roughly chopped raisins
2 tablespoons slivered almonds
1/3 cup grated cheese (your choice!)
1/4 cup fresh coriander leaves
Steps
Combine tandoori paste, lemon and yoghurt in bowl, and coat the chicken. Put in refrigerator for 1 hour (if you have time).
Preheat oven to 220 degrees C. Put pizza bases on tray.
Spread chutney on base, and top with spinach, onion, chicken, raisins, almonds and cheese.
Bake for 12 to 15 minutes and serve sprinkled with coriander. Add a dollop of yoghurt if you'd like.
Ad. Article continues below.
5. Slow-roasted shredded pork with thyme, Taleggio pizza with rocket and lemon dressing
Ingredients
Pork
1kg pork shoulder
2 tablespoons fennel seeds
Pinch of sea salt and freshly ground black pepper
Extra virgin olive oil
The suggested pork will give you heaps of left overs but there's no point in cooking less so you can simply use the rest of leftover sandwiches.
Ad. Article continues below.
Topping
2 teaspoons tomato sauce
50g Taleggio sauce
1 teaspoon fresh thyme leaves
Handful of rocket mix
1/2 juice of lemon
Steps
Preheat oven to 170 degrees C and score the pork shoulder. Bash fennel seeds and rub over pork, and season accordingly.
Roast pork for four hours or until meat is tender and shreds easily. Let it cool and then shred with fork. Dress with a little bit of the cooking juice to keep it moist.
Now onto the toppings! Spread the tomato sauce on the pizza base and scatter the pork and Taleggio.
Add the thyme leaves and drizzle with olive oil. Cook until golden. Then dress with rocket and a bit of lemon juice.
What is your favourite pizza toppings or pizza combination?