10-minute spaghetti carbonara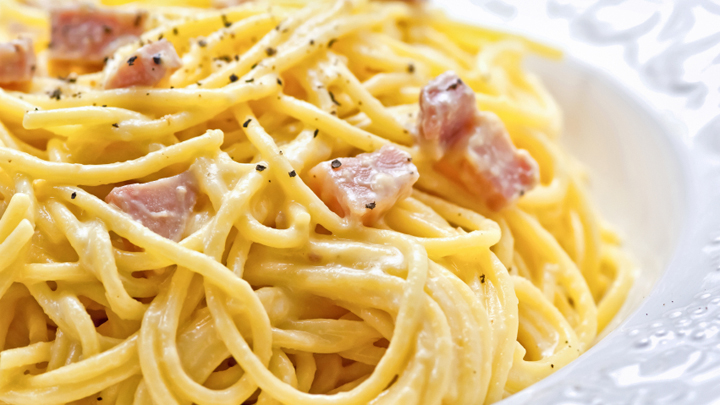 If you want to make a quick dinner but don't have time to fuss about, this spaghetti carbonara is the perfect meal.
Rich in flavour and so easy to prepare, you'll want to make it time and time again.
Serves 2
Total time: 10 minutes
Ingredients
Ad. Article continues below.
• 3 large egg yolks
• 40g Parmesan cheese, plus extra to serve
• Sea salt and freshly ground black pepper
• 150g pancetta
• 200g spaghetti
• 1 clove of garlic, peeled
• Extra-virgin olive oil
Method
Put the egg yolks in a bowl, finely grate in the parmesan, season with pepper, then mix well with a fork and put to one side. Cut any hard skin off the pancetta and set aside, then chop the meat.
Cook the spaghetti in a large pot of boiling salted water. Meanwhile heat up the oil on a medium-high stove.
Crush the garlic clove, add it to the pan and leave it to flavour. Stir in the pancetta, and cook for 4 minutes, or until it starts to crisp.
Take out the garlic from the pan, then, reserving some of the cooking water, drain and add the spaghetti. Toss well over the heat so it soaks up all the flavour, then remove the pan from the heat. Add a splash of the cooking water and toss well, season with pepper, then pour in the egg mixture — the pan will help to cook the egg gently, rather than scrambling it. Toss well, adding more cooking water until glossy. Serve with parmesan and an extra twist of pepper.