10 easy finger foods – ready in 10 minutes or less!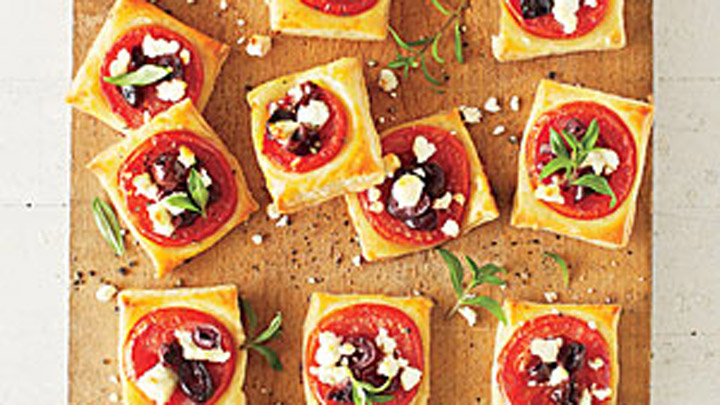 Christmas is the season of food but when you have a party it can be hard to tell what will please everyone. So why not make some canapés that will be sure to tantalise even the most pickiest guests' tastebuds? Here's 10 of our favourites.
1. Beetroot crackers with garlicky mushrooms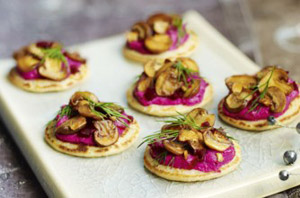 Makes: 30
Ingredients
Ad. Article continues below.
150g vacuum-packed beetroot
3 tbsp creme fraiche
125g ricotta
Small bunch dill, half roughly chopped
40g butter
250g button mushrooms, sliced
3 garlic cloves, finely chopped
mini toasts or crackers of your choice
Method
In a food processor, whizz beetroot, creme fraiche and ricotta until coarse. Season well, stir in the chopped dill and chill until required.
Melt butter in a large frying pan, add mushrooms and garlic and fry until deep golden.
To serve, put the crackers on a platter, spread with a teaspoonful of beetroot mix, add a few mushrooms and garnish with a small sprig of dill.
2. Proscuitto and mozzarella bites
Ad. Article continues below.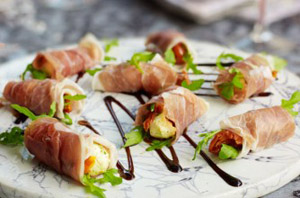 Makes: 8
Ingredients
16 slices of proscuitto
50g pack wild rocket
150g pack mini mozzarella
240g pack sun-blush tomatoes
1 tbsp balsamic vinegar glaze
Method
Ad. Article continues below.
Lay a sheet of proscuitto on a board, add a few rocket leaves, a ball of mozzarella and a sun-blush tomato, season and roll into a neat wrap. Repeat with all the proscuitto slices.
Put on a platter drizzled with balsamic glaze and serve immediately or chill for a few hours until ready to serve.
3. Crispy prawns with sweet chilli dip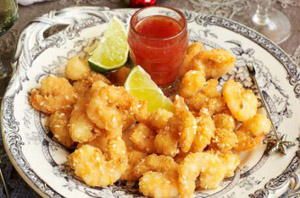 Ad. Article continues below.
Makes: 30
Ingredients
275g breadcrumbs
2 tbsp desiccated coconut
2 tbsp sesame seeds
3 tbsp plain flour
200g raw peeled king prawns, defrosted if frozen
1 egg, beaten
500ml sunflower oil
Lime wedges, to serve
For the dipping sauce
Zest and juice of 1 lime
5 tbsp sweet chilli sauce
1 tbsp soy sauce
Ad. Article continues below.
Method
Mix together breadcrumbs, coconut, sesame seeds and flour in a bowl and season well. Toss prawns and beaten egg together then, a few at a time, shake off the excess egg and toss in the crumb mixture and put on a plate. Repeat until all the prawns are coated.
Heat the oil in a large, deep pan until a cube of bread turns golden in 30 secs. Add the prawns and cook for about 2 mins until golden. Drain the prawns on kitchen paper.
Mix together the lime juice and zest, chilli sauce and soy sauce and pour into a dipping bowl. Serve with the prawns and extra lime wedges.
4. Apricot bites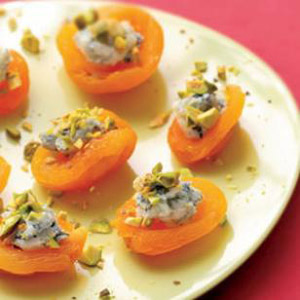 Ad. Article continues below.
Makes: 16
Ingredients
16 dried apricots
8 tsp crumbled blue cheese
50g chopped shelled pistachios
1/2 tsp honey
Freshly ground pepper
Method
Top each apricot with 1/2 teaspoon cheese
Sprinkle with pistachios and drizzle with honey; sprinkle with pepper.
Ad. Article continues below.
5. Unfried chicken tenders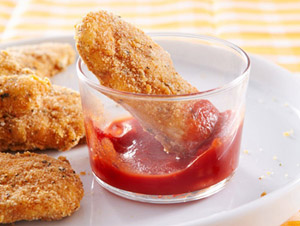 Ingredients
1 cup Italian breadcrumbs
1/4 tsp salt
1/4 tsp paprika
1/4 tsp garlic powder
2 tbsp all-purpose flour
2 eggs
450g chicken tenderloins
Olive or canola oil spray
Ad. Article continues below.
Method
Preheat oven to 190 degrees and spray a baking sheet with olive or canola oil spray.
Whisk the bread crumbs, salt, paprika, garlic powder and flour in a shallow bowl.
In a separate bowl, whisk the eggs with 2 tablespoons of water.
Coat the chicken tenders in the egg mixture and then transfer them to the breadcrumb mixture. Press down with the heel of your hand to adhere the breadcrumbs to the tenders.
Place the tenders on the baking sheet and lightly and evenly coat the tops of each tender with spray.
Bake the tenders for 5 minutes and remove them from the oven. Turn the tenderloins over, spray them lightly and evenly again with olive or canola oil spray, and bake for 5 minutes more, or until cooked through.
6. Brie filo cups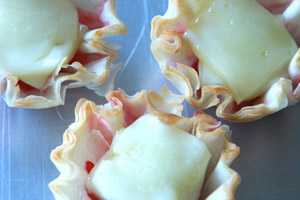 Ad. Article continues below.
Makes: 12
Ingredients
12 filo pastry cups
raspberry jam or cranberry sauce
block of brie cheese
Method
Fill pre-made filo pastry cups filled with a dollop of raspberry jam and small squares of brie cheese.
Pop in the oven for 8 minutes and you have a hot delicious appetiser ready to serve.
Ad. Article continues below.
7. Stuffed celery recipe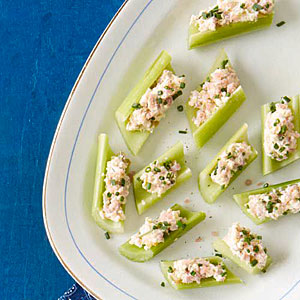 Makes: 10
Ingredients
3/4 cup shredded smoked Gouda
50g cream cheese, at room temperature
2 tbsp mayonnaise
1 1/2 tsp Dijon mustard
50g chopped ham
1/4 cup chopped pitted green olives
1/2 teaspoon onion powder
1/2 teaspoon Worcestershire sauce
Pepper
8 large ribs celery, cut into 3.5cm lengths
2 tablespoons chopped chives
Method
1. In a food processor, puree Gouda, cream cheese, mayonnaise, mustard, ham, olives, onion powder and Worcestershire sauce until smooth. Taste and season with pepper.
2. Using a small knife, carefully spread filling into celery pieces (alternatively, spoon into a large ziplock bag, seal bag and snip off a corner, or use a pastry bag with a plain tip, to pipe filling into celery). Sprinkle with chives and serve.
8. Tomato-feta bites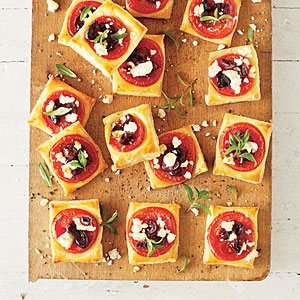 Makes: 48
1  package frozen puff pastry sheets, thawed
8 Roma tomatoes, sliced
1/2 cup kalamata olives, chopped
220g crumbled feta cheese
2 tbsp extra virgin olive oil
1/4 cup chopped fresh herbs (such as oregano, basil, thyme, chives, and parsley)
Method
1. Preheat oven to 200 degrees. Place pastry sheets on a lightly floured work surface, and roll into 2 (20 x 30cm) rectangles. Pierce dough with fork. Cut each pastry sheet into 24 squares; place on foil-lined baking sheets.
2. Place 1 tomato slice on each pastry square. Top evenly with olives and feta; drizzle with olive oil.
3. Bake 15 to 18 minutes or until pastry is puffed and golden. Sprinkle with herbs before serving.
9. Mini quiches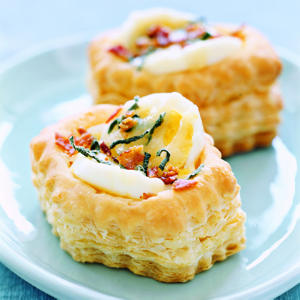 Makes: 6
6 hard-boiled eggs
6 pre-baked puff-pastry shells
1 1/2 tablespoons chopped fresh sage leaves
1/3 cup grated Fontina cheese
Crumbled bacon
Method
Slice eggs crosswise and place 1 in each pre=baked puff-pastry shells (found in the frozen food section). Top with fresh sage and grated Fontina cheese. Bake at 200 degrees until the cheese melts (about 5 minutes). Garnish each tiny quiche with crumbled bacon, if desired.
10. Chocolate bruschetta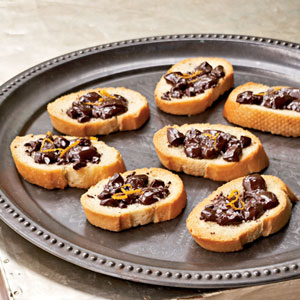 Makes: 10
10 slices diagonally cut French bread
Cooking spray
140g bittersweet chocolate (60 to 70 percent cocoa), finely chopped (about 1 cup)
1/4 tsp coarse sea salt
Grated orange rind (optional)
Method
Preheat grill.
Lightly coat bread with cooking spray. Place bread on a baking sheet; grill 3 minutes on each side or until toasted. Remove bread from oven.
Reduce oven temperature to 175 degrees.
Sprinkle each bread slice with about 1 1/2 tablespoons chocolate. Bake 5 minutes or until chocolate melts. Sprinkle evenly with salt; garnish with orange rind, if desired. Serve warm.
What will you be serving this Christmas? Tell us below.