Nigella Lawson slammed for VERY heavy use of an 'unhealthy' staple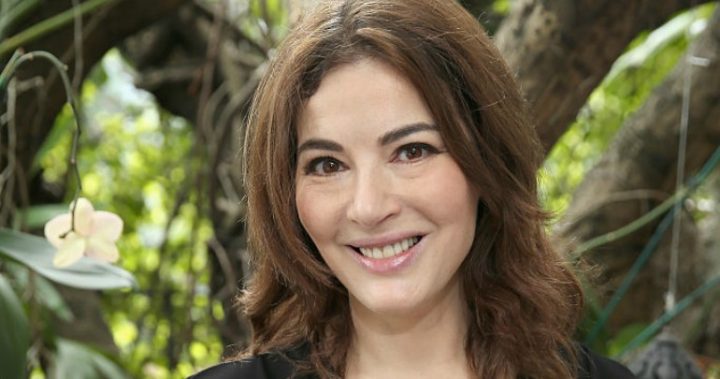 Even avid fans of the Kitchen Goddess were left shocked after Nigella Lawson's seasoning style in the latest episode of her television series At My Table.
Admitting she likes to "salt very generously", the gourmet food writer, was seen creating a Middle Eastern-inspired bulgar wheat recipe, when she added two large spoonfuls of sea salt flakes.
Admittedly, it wasn't a dish that was meant for one person. But Nigella's generous splash of sodium caused a social media frenzy as viewers, their blood pressure rising even before they had actually cooked and eaten the salty dish themselves, slammed her for the unhealthy addition.
My blood pressure shot up watching #Nigella add all that salt to the bulgur wheat ?. #atmytable

— Missylynne (@Missylynne_) November 6, 2017
Ad. Article continues below.
Some suggested Lawson may have an ulterior motive …
Does @Nigella_Lawson own a large amount of shares in a well known sea salt company? #AtMyTable

— Lady Waterloo (@LadyWaterloo) November 8, 2017
It didn't take long before there was also plenty of jokey commentary on the cook's heavy hand with the salt cellar. 
'I like to be quite generous with the salt' #Nigella pic.twitter.com/ZFK267zOsi

— Tom Clayton (@TomClayton3) November 6, 2017
Ad. Article continues below.
Nigella has never been one to focus on diet or health food, and she continued with the theme for the rest of the show, creating breakfast waffles, beef and aubergine fatteh, a fried brie sandwich, and an ice-cream cake topped with passionfruit. 
The celebrity cook launched her latest series, In My Kitchen, last week.  The first episode quickly had fans smitten with Lawson's expensive taste in kitchen appliances, including a £750 (A$1,290, US$987) limited-edition copper mixer. 
Is that way too much salt for your taste? Or does it sound about right?