Expert suggests that tilting your beer glass can cause bloating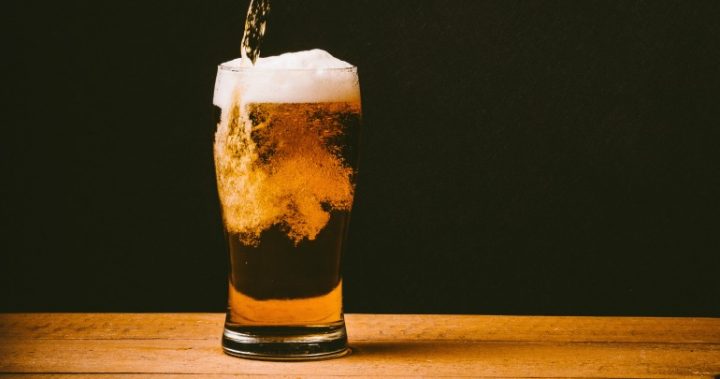 Beer is one of the best-loved drinks around the world, but many would argue that there's nothing worse than a large head of foam. In fact, most people would send it back to the bar if their beer came with one. 
Others claim that tilting the glass to avoid a frothy top is a sure-fire way of pouring the perfect glass of beer. You probably see the barmaid or bartender at your favourite pub or bar doing this regularly.
A new report suggests that while this may look aesthetically pleasing, it could lead to drinkers feeling more bloated after consuming beer. Max Bakker, a Master Cicerone in New York, suggested that people had been pouring beer wrong all along.
In a video posted on Business Insider's Twitter page, he suggested that problems occur when people wanted to drink beer out of a glass.
"We always want to drink beer out of a glass because beer has a sound to it, just like a taste," he said. 
Ad. Article continues below.
A 'beer sommelier' explains how pouring a beer the wrong way can give you a stomach ache pic.twitter.com/vxyLogLdqa

— Business Insider (@businessinsider) January 1, 2018
Read more: Scientist predicts alcohol won't exist in 10 years
He noted that beer is carbonated and that most people pour it into a glass to release it.
Bakker demonstrated a bottle of beer being poured into a tilted glass and explained: "The server's only goal in life is to not let any of that CO2 out of the beer."
Ad. Article continues below.
He suggested that with no foam, beer isn't really beer and added that eating snacks with beer could cause your stomach to turn.
Placing some food directly in the beer, he demonstrated how foam still appears when mixed with a snack and suggested that it was far better for some foam to appear so the CO2 is released and not ingested completely in your stomach.
He added that foam at the top of a glass always turns into beer anyway and that it doesn't impact your stomach as much because it breaks the CO2 in the glass.
If that wasn't enough, Bakker added that the foam allows drinkers to taste the sweetness of the malt and the bitterness of the hops. He also suggested that the foam makes the existing beer below taste even better.
The news shocked people across social media, who were surprised to see that they'd been pouring the drink incorrectly.
Ad. Article continues below.
One person on Twitter wrote: "Agreed. Start with a good beer. Pour it into a glass to let it breathe & release the aroma of the hops. Finish with a half inch of head & enjoy. Belch if necessary."
Read more: Do Baby Boomers drink too much?
Another said: "Holy moly, today I learned," while a third simply added: "I've been living a lie."
In Australia and the UK, alcohol consumption for people aged between 50 and 59 is currently at a risky level, according to data published by the British Medical Journal.
Their results claim that older Aussies drinking more than 11 standard drinks in one session could be at risk, while other age groups are actually consuming less alcohol.
While it's important to have a good time, always be sure to know your limits.
What do you think? Is this the correct way to pour a beer? Do you ever experience bloating?